Since being converted into an ETF in October, the Neuberger Berman Commodity Strategy ETF (NBCM B+) has "been a success story for" Neuberger Berman, according to the firm's ETF Specialist Fred Edwards.
"We're bucking the trend. We've actually seen net inflows to the fund," Edwards told VettaFi at Exchange.
NBCM invests in commodity-linked derivatives with an active risk-balanced, diversified approach that seeks to minimize the effects of market volatility. Tactical exposure adjustments expand potential alpha sources by considering top-down macro variables among commodity sectors and individual commodity outlooks to take advantage of short- and long-term opportunities.
Edwards said that Neuberger Berman has been talking with investors who have been in the space long-term who see NBCM as "a way out, or a way to take some profit and reassess." The firm has also been in discussions with investors ranging from those who never use commodity-linked derivatives to those who trade them actively.
"We're having good conversations in the commodity space," Edwards added.
NBCM is up nearly 3% since its launch.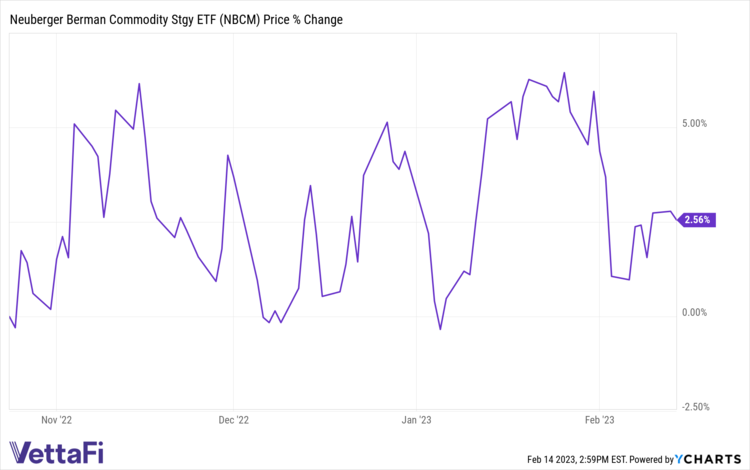 Scott Kilgallen, head of North America intermediary client coverage at Neuberger Berman, said in a news release announcing the ETF's launch that "commodities can enhance strategic asset allocation by providing diversification benefits while potentially mitigating the effects of inflation."
The fully transparent ETF's fixed income holdings are actively managed and designed to preserve capital and serve as collateral for the ETF's derivative positions while also seeking to generate additional yield. The fund is managed by Hakan Kaya, David Wan, and Michael Foster.
"Advisors have seen the benefits of adding in broad commodities ETFs into client portfolios in 2022 to offset the pressure of falling equity and bond prices," said Todd Rosenbluth, head of research at VettaFi. "It's exciting to watch Neuberger Berman further penetrate the ETF market given its strong brand and investment expertise."
For more news, information, and analysis, visit the Megatrends Channel.
---
Content continues below advertisement