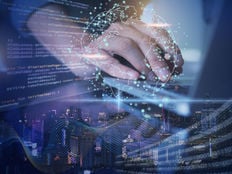 The question of how to capture the growth within the disruptive technology sector is becoming more pronounced as the Nasdaq 100 matures as an index. Neuberger Berman hopes to answer this question through its Neuberger Berman Disrupters ETF (NBDS B).
"Where's the growth that took off over the last few years with loose policy? What is the growth worth owning, regardless of whether or not we see flat markets for one or two years? That's what we're trying to solve for with our disruptive technology [fund]," said Fred Edwards, ETF specialist at Neuberger Berman.
NBDS invests in companies that pursue disruptive growth agendas that the portfolio management team believes will shape the future and can invest globally across market capitalizations. Rather than use traditional sector classification, the fund instead uses a disciplined process to seek highly innovative companies consistent with a longer-term investment horizon.
But regardless of which companies are considered for the fund, Edwards said: "at the end of the day, we don't invest until we see cash flow."
The portfolio team for NBDS has access to daily analysis on six terabytes of data through machine learning, language processing, and cloud computing techniques. This includes SKU-level transaction data, search data, and conference call transcripts, complementing its fundamental analysis to result in a rigorously developed and highly targeted portfolio of roughly 30 companies.
The top holdings in NBDS as of February 22 are Analog Devices Inc. (ADI), Nvidia Corp. (NVDA), and ASML Holding NV (ASML).
For the 12 months ending Feb. 22, NBDS has outperformed the ARK Innovation Fund (ARKK B+) by nearly 27 percentage points.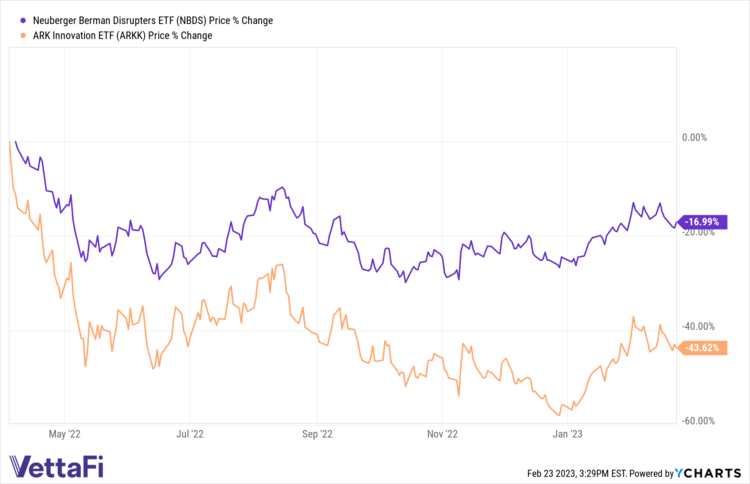 Because the fund is actively managed, the team can nimbly pivot to microtrends happening within the megatrend of the connected consumer.
"That's the case for active management: things change so quickly," Edwards said. "There is a big picture, but there's also the micro that's managed in real-time."
For more news, information, and analysis, visit the Megatrends Channel.
---
Content continues below advertisement