Modern Alpha Channel - ETF Database
While the three-year ETF milestone has plenty of importance, consider the power of the ten year ETF birthday. That's the news for the (DGRW A) which had its ten year birthday in May. As part of its birthday celebrations, the strategy also added $268.6 million in net inflows, enough to lift the quality dividend ETF above $9 billion in AUM. That should invite advisors to consider the potent combination of quality and dividends.
DGRW tracks the WisdomTree U.S. Quality Dividend Growth Index for a 28 basis point fee, and offers a 2.01% annual dividend yield as of May. The index tracks the performance of large and mid-cap dividend-paying U.S. stocks that fit a growth framework. DGRW focuses on dividend growth potential rather than just looking backwards at past dividend increases. It does so by looking at forward-looking earnings estimates based on things like historical return on assets (ROA) and return on equity (ROE).
That approach has helped the quality dividend growth ETF outperform the S&P 500 Index by 0.22% annually over the last ten years. The strategy goes back to some solid research from the firm's now Global CIO Jeremy Schwartz and Global Head of Research Christopher Gannatti.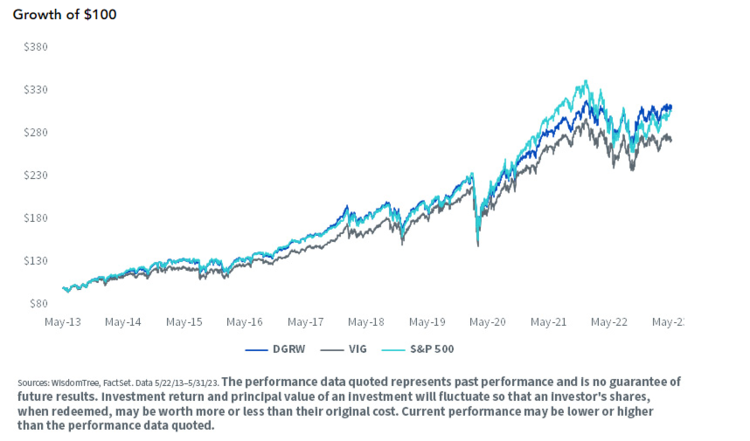 Those white papers focused on the rationale behind using ROE and ROA with a forward-looking dividend growth screen. Combining the two has helped DGRW limit reliance on superficially high ROE figures caused by firms taking on leverage, for example. Together, that's helped its index look forward compared to the NASDAQ U.S. Dividend Achievers Select Index which requires ten consecutive years of dividend growth. That requirement, DGRW's managers fear, may fail to capture growth opportunities.
See more: Digging Into Up-and-Coming Quality Growth ETF QGRW
For example, (AAPL) joined the WisdomTree U.S. Dividend Growth Index back in 2013, but wasn't eligible for the NASDAQ index until 2023, per an old WisdomTree blog. Taken together, those research lessons have helped DGRW return 21% over the last year and 15.5% over the last three years. That's helped DGRW outperform its ETF Database Category and Factset Segment averages in those time frames. For investors looking for a quality dividend growth ETF, DGRW stands out as one to consider.
For more news, information, and analysis, visit the Modern Alpha Channel.
---
Content continues below advertisement