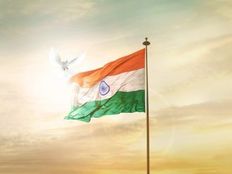 Is it time to ditch the U.S. equities space? Whether it's the prospect of even more rate hikes this year sparking a recession, signs that the bank sector is teetering on itself, or that U.S. equities are just flat out overvalued for what they offer investors, an Asia Equities ETF could be an appealing alternative, as China's reopening reignites the region overall. The Asia Equities ETF that's sending out tech signs is not focused on China, however, but is actually the (EPI C+).
Why India? The massive South Asian economy that had a very interesting February, in which firms in the Adani Group, run by billionaire and alleged fraudster Gautum Adani, saw volatility related to those issues. Still, India has outperformed emerging markets notably over the last two years thanks to a resilient domestic economy, and despite a slight reversion to the mean to start the year amid Adani's reverberations, the picture may be brightening this year.
That's in part due to inflation expected to fall from 6.5% in the 2022/2023 fiscal year to 5.3%, while cuts in subsidies for areas like food and fertilizer as well as robust tax collection trends may drive stronger capital expenditures that could benefit industrial, cement, and even consumer sectors.
That's where an ETF like EPI comes in. EPI saw its 50-day Simple Moving Average (SMA) rise over its 200-day SMA over the last few weeks, a key technical indicator. The ETF's price has since floated around rising back above the 200-day SMA, suggesting latent momentum in its price, with the Asia equities ETF returning 1.2% over the week.
EPI tracks the WisdomTree India Earnings Index and charges 84 basis points, offering exposure to Indian equities weighted by earnings instead of market capitalization, helping those investors who may want to overweight India, but aren't sure about going with a cap-weighted lens.
International and emerging markets equities can offer some important diversification away from a complicated U.S. equities market right now, whether that's through traditional equities strategies or even those with a dividends flavor. India can present a notable alternative to China's political and real estate debt-driven volatility, with EPI an offering wroth watching in the weeks and months ahead.
For more news, information, and analysis, visit the Modern Alpha Channel.