While demand for U.S. equity ETFs has picked up in April, international equity funds continue to experience relative strength. Year-to-date through April 21, international equity ETFs gathered $33 billion compared to just $6.5 billion for domestic equity products. Asset managers should expect further net inflows to international equity funds, according to VettaFi data.  
During a recent webcast with Diamond Hill, VettaFi asked advisors "Do you expect your clients' international equity allocations to increase, decrease or remain the same over the next 12 months?" Two thirds (67%) plan to increase, while only 4% plan to decrease their exposure. The remaining 29% plan to keep the allocation the same over the next year.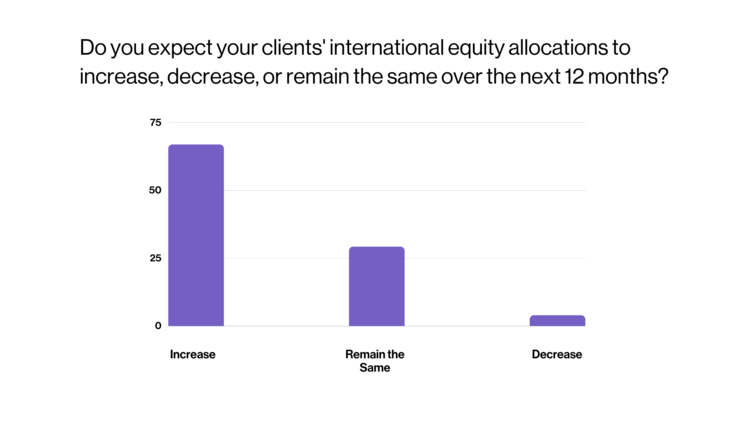 We previously wrote about advisor interest in developed international equities, and highlighted the differences between popular broad-market index-based products like the (VEA A) and the (IEFA A). In that piece we also covered some actively managed funds from Dimensional Funds and Harbor. However, we did not discuss smart beta ETFs focused on international dividend-paying or high-quality stocks that were outperforming the broader market strategies thus far in 2023. 
The (IQLT A) is the international cousin of the (QUAL A-) which has been helping drive U.S. equity flows in 2023. IQLT, which is a sizable fund on its own managing $5.6 billion in assets added by nearly $1 billion of net inflows according to LOGICLY, a VettaFi business acquired this week.  
QLT was up 11.9% year-to-date through April 21, IQLT was outperforming IEFA and VEA due to its ownership of companies with a high return on equity, stable earnings growth, and low financial leverage. IQLT's top holdings include ASML, Nestle, and Novo Nordisk, though the fund's largest sectors were financials (20% of assets) and industrials (15%). IQLT has a net expense ratio of 0.30%. 
Meanwhile, the (IDOG B-) rose 12.7% to start 2023. The $210 million ETF owns the five highest dividend-yielding developed international stocks in 10 different sectors, and equally weights them on an annual basis. The fund's largest positions included ENEL, Hennes & Mauritz, and Sanofi, with health care (10.7% of assets), utilities (10.4%), and consumer staples (10.1%) as the current heftiest sectors. IDOG sports a 4.9% dividend yield and charges a 0.50% fee. The fund pulled in $20 million thus far in 2023. 
Advisors seeking a combination of quality and dividends might consider the (IHDG B+), which rose 13.8%. The ETF owns dividend-paying companies outside of the U.S. and Canada, after applying quality and growth screens and then attempts to further reduce risk through currency hedging. The fund's top positions were recently LVMH, Novartis and Unilver, while top sectors were consumer discretionary (21% of assets), consumer staples (20%), and health care (19%). IHDG has a 1.6% distribution yield and charges a net expense ratio of 0.58%. The ETF added approximately $150 million of new money this year. 
While most international equity ETFs assets reside in market-cap weighted strategies, there are some top-notch alternatively-weighted index approaches that focus on companies with strong fundamental attributes. As advisors look to boost their international equity exposure, these might fit into a risk-conscious asset allocation strategy. 
For more news, information, and analysis, visit the Modern Alpha Channel.
Data provided by LOGICLY, which is a wholly owned subsidiary of VettaFi.
---
Content continues below advertisement