Modern Alpha Channel - ETF Database
Currency-hedged ETFs are gathering notable investor interest right now, and the WisdomTree Japan Hedged Equity Fund (DXJ B-) is no exception. The strategy is approaching $2 billion in overall AUM, with just over $50 million left to go before reaching that milestone. DXJ has added nearly $250 million in just the last month, so what's behind the interest in currency-hedged foreign equities?
See more: What's Behind the Spike in Interest for Japan ETFs?
The prospect of foreign equities as a diversifier away from a complicated U.S. market has appealed to investors this year. With a recession still looming and the Fed still possibly set to raise rates even further, U.S. equities look more expensive. Many developed and emerging markets saw their central banks complete rate hikes to combat pandemic-induced inflation months ago. By comparison, the U.S. appears to have some way to go with a tougher credit and lending environment for all kinds of businesses.
That prevailing narrative misses out on the role played by the U.S. dollar, however. Currency-hedged ETFs take out the currency exchange spreads incurred by other foreign equities ETFs. More than that, however, U.S. dollar bias in the U.S. market also suggests that foreign ETFs could diversify portfolios better.
According to Wisdomtree Investments Global CIO Jeremy Schwartz, periods of dollar strength or weakness has a strong relationship to S&P 500 earnings. The research shows that the dollar either provided a strong headwind when rising or a tailwind when falling. Together, they've combined for a 600 basis point (bps) differential in earnings based on the currency regime.
Rising dollar regimes saw earnings drop about 2% over six months, while weak dollar regimes boosted earnings by almost 7%. With the S&P 500 up and the dollar weakening, investors should then consider avoiding adding further "weak dollar bets." Investing unhedged adds portfolio risk should the dollar turn around and strengthen.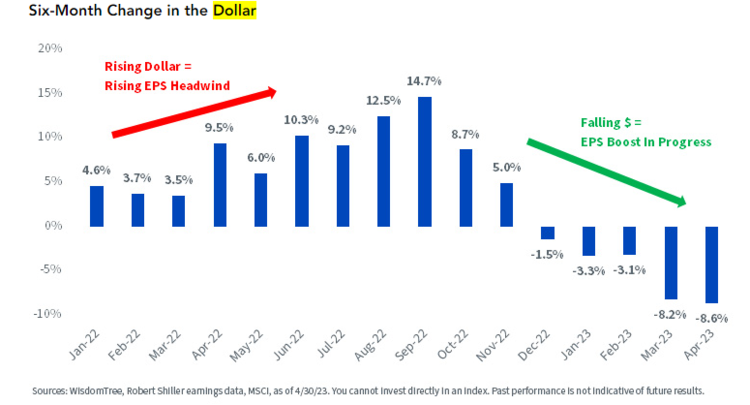 That's where DXJ comes in. The currency-hedged ETF focuses on Japan and charges 48 bps to track its Japan-focused index. DXJ has nearly doubled the Factset Segment Average returns for its category, returning 18.5% YTD to the average of 9.3%.
For more news, information, and analysis, visit the Modern Alpha Channel.
---
Content continues below advertisement