Modern Alpha Channel - ETF Database
While the U.S. economy remains stubbornly hot, much to the Fed's chagrin, China's may be sputtering. The massive Chinese economy saw key indicators slow down in July, but that didn't slow down interest in China ETFs. Indeed, China ETFs dominated the top rankings for the best-performing ETFs over the last week. The (CXSE A-) ranked among those top China ETFs, with its approach standing out from the crowd.
See more: Issuer League: WisdomTree Hits $60 Billion
Yes, recent data shows youth unemployment, a slowing housing market, and anemic second-quarter growth in China. However, investors flocked to the country's equities in part because of expectations that the government will respond. While some see a reluctance to jump in, economists believe that the Chinese government will have to step in. What's more, down news presented an opportunity to jump in and buy low for a potential rebound. After all, China still projects a 5% GDP expansion this year.
Should more policy support be coming, China ETFs may be poised to benefit. China-focused strategies saw robust returns over the last week according to Logicly data. So where should an investor look among the top China ETFs? CXSE may have a case for consideration.
The strategy tracks the WisdomTree China ex-State-Owned Enterprises Index, a market-cap-weighted index of non-state-owned Chinese firms. CXSE defines government owned as less than 20% government ownership in a given holding.
CXSE's managers believe that privately-owned firms operate more efficiently than state-owned companies. Most other Chinese ETFs lack that screen, which may give CXSE a leg up if private firms do outperform their government-owned rivals. The ETF has outperformed its ETF Database Category and Factset Segment averages over the last month, as well.
CXSE has returned 7% over the last week, finishing in the top twelve ETFs by returns in that time. The strategy weights retail trade, tech services, and health technology as its three largest-weighted sectors. That leads it to hold (BABA), for example, as its largest-weighted name at 10.7%.
Charging just 32 basis points (bps), CXSE also sent a buy signal as of the end of July. For those investors looking at foreign equities and deciding among the top China ETFs, CXSE's metrics and approach make it a prime candidate to consider for a Chinese economy stimulated by government action.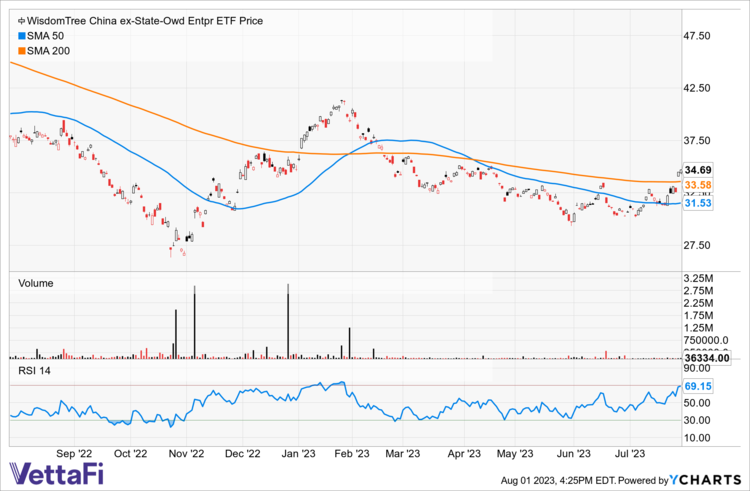 ---
Content continues below advertisement