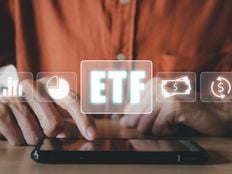 ETFs are being filed all the time, with last year seeing another crop of hundreds of strategies using the vehicle for its tax advantages and flexibility. Some ETFs hit the ground running from inception and can be a powerful tool in an advisor's arsenal when looking for a strategy with a runway to grow. And the WisdomTree U.S. Quality Growth Fund (QGRW B+) is one to watch.
QGRW is part of a suite of ETFs at WisdomTree Investments that combine growth exposures with other factors – the quality growth ETF comes from the same lineage as the WisdomTree U.S. Quality Dividend Growth Fund (DGRW A), for example, which is the second-largest ETF at the firm with $8.3 billion in AUM.
QGRW only launched on December 15, but it's already above its 50-day Simple Moving Average (SMA) for its price according to YCharts, while it's also outperforming rivals like the iShares Factors U.S. Growth Style ETF (STLG B-) and the Global X NASDAQ 100 Tail Risk ETF (QTR B) YTD per YCharts as well, returning a notable 20% since the start of 2023.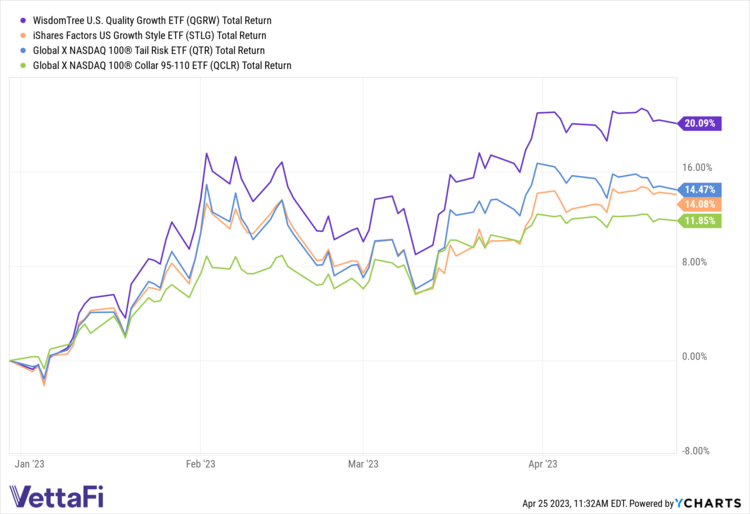 Why consider a quality approach for the rest of the year, following on from a strong start? With market turmoil still very much in the cards once companies find where Americans' limit is on price hikes, and with the Fed fighting a very stubborn inflation rate, quality may be more durable. More quality funds outperformed in a three-decade sample compared to value or high dividend strategies per research from WisdomTree Investments, suggesting their strength as an option for the rest of 2023.
QGRW tracks a market cap-weighted index of 100 large-cap growth names. QGRW applies a composite score equally based on growth and quality factors to a universe of about 500 names, with growth determined by things like earnings insight and sales growth and the latter set by a three-year average return on equity. At that point, the ETF's managers then apply a market cap weight and limit all securities to a maximum 15% weight.
See more: Look to a Quality Strategy for Now – and the Long Term
If QGRW follows the path of a strategy like DGRW which has added $462 million over the last month alone, QGRW could be an appealing up-and-comer quality growth ETF to watch. Quality has been a popular theme for many advisors so far this year and is worth considering in QGRW as a long-term hold that can be durable in a second-half downturn.
For more news, information, and analysis, visit the Modern Alpha Channel.
---
Content continues below advertisement