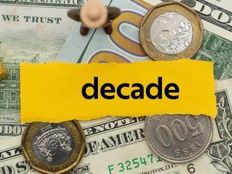 Dividends were star players last year for investors, buoying portfolios with current income when clear answers to the market's uncertainties were hard to find. Last year wasn't a one off, though, with the markets offering the potential for a "dividend decade" moving forward, according to the folks at WisdomTree Investments.
"We believe investors are to continue to focus on dividends, not over the coming year, but over the coming decade," said WisdomTree's Global CIO Jeremy Schwartz. "WisdomTree was founded back in 2006 on the basic idea that dividend weighting portfolios can help improve valuations over traditional market cap weighted portfolios."
This year has already seen the outlook for dividends brighten. Look to American Express (AXP) for example, with the firm sharing last week that it would be hiking its dividends. Investors considering their options should be mindful of how companies like AXP offer income that can lessen the impact of looming rate hikes from the Fed or from a "stagflation"-type environment for the U.S. economy, both on the cards for 2023.
And should the U.S. economy dip into a recession, which looks less likely at present but remains a risk, dividends can play a role, as they offer comparatively less volatility when compared to stock prices in a recession.
Those factors should make investors take a long look at a strategy like the WisdomTree Global ex-U.S. Quality Dividend Growth Fund (DNL B). DNL tracks the WisdomTree Global ex-U.S. Quality Dividend Growth Index and is a mature strategy, having launched almost two decades ago. DNL charges 42 basis points for its approach, which includes identifying non-U.S. dividend paying firms based on quality metrics like earnings growth.
A core international holding for portfolios, the strategy has seen a spike in net inflows over the last five days, taking in $31.5 million in that time. DNL has also outperformed its ETF Database Category Average and its Factset Segment Average over the last three months, returning 21.8% compared to 18.3% and 17.4% respectively.
Should the market regime that defined the last decade not be coming back, it may be time to consider how current income can buoy portfolios for the long run. A dividend decade could be in the cards, with DNL a strategy to consider when planning for it.
For more news, information, and analysis, visit the Modern Alpha Channel.