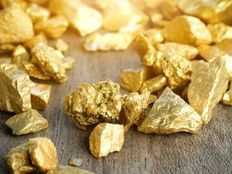 Modern Alpha Channel - ETF Database
Gold miners are among the asset classes that have long vexed market participants. Often volatile, this corner of the equity market has documented periods in which it overshoots bullion's price action in both directions, chastening skittish investors in the process.
Still, miners may be worth revisiting this year, and early 2023 price action by the yellow metal appears to confirm as much, as the largest bullion-backed exchange traded fund is higher by 6.27% year-to-date. Selective investors may want to evaluate the (GDMN ), an actively managed ETF that's a unique spin on gold investing.
GDMN, which debuted in December 2021, is unique not only because it's an actively managed fund in a corner of the ETF realm littered with passive products, but also because it combines exposure to shares of gold miners along with gold futures.
The exposure to gold futures can offset some of the risk associated with miners allocations. That said, miners are in the midst of long-running efforts to firm up balance sheets and return more capital to shareholders, confirming that fundamentals in the group are stout.
"Gold miners' shares are trading at 1.67 times price-to-book value, marking a 2.59% discount to the long-term average. The book value, also often referred to as the net asset value, is the theoretical value of a company's assets net of liabilities. We believe Gold miners offer attractive dividend yields amid the backdrop of a rising rate environment. Currently, gold miners offer a dividend yield 2.4% higher than the S&P 500 Index at 1.72%," according to WisdomTree research.
Another potentially positive point to consider when evaluating GDMN through the lens of active management is that the fund could be more responsive to increasingly encouraging environmental, social, and governance (ESG) trends in the gold mining space. Indeed, the mining industry's historical ESG reputation leaves something to be desired, but that also implies ample room for improvement — some of which is being realized today.
"One well known ESG metric for gold miners is greenhouse gas (GHG) emissions. Most gold miners have set out clearly defined targets to reduce emissions over time, backed with capital expenditure plans to achieve them," noted WisdomTree.
Over the near term, GDMN's miners holdings could benefit from easing inflation, which could lead to a decline in all-in sustainability costs (ASIC) — a key metric for evaluating miners' profitability. Likewise, lower inflation could serve the end of weakening the U.S. dollar, which would benefit the ETF's gold futures positions.
For more news, information, and analysis, visit the Modern Alpha Channel.