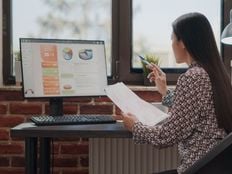 Core allocations – they're the bedrock of investor portfolios. With all sorts of big, indexed strategies out there that track the market, it can be tricky to innovate and offer an appealing spin in an ETF format. Despite those challenges, that's just what the WisdomTree U.S. Efficient Core Fund (NTSX A-) has done, alongside its efficient core suite siblings, combining treasuries and active core equities in a single strategy using Treasuries futures and some leveraging.
NTSX is one of three efficient core strategies over at WisdomTree, joined by its siblings, the WisdomTree International Efficient Core Fund (NTSI B+) and the WisdomTree Emerging Markets Efficient Core Fund (NTSE B-). All three are actively managed and have delivered some solid performance year to date, per YCharts below, charging 20, 26, and 32 basis points (bps) respectively.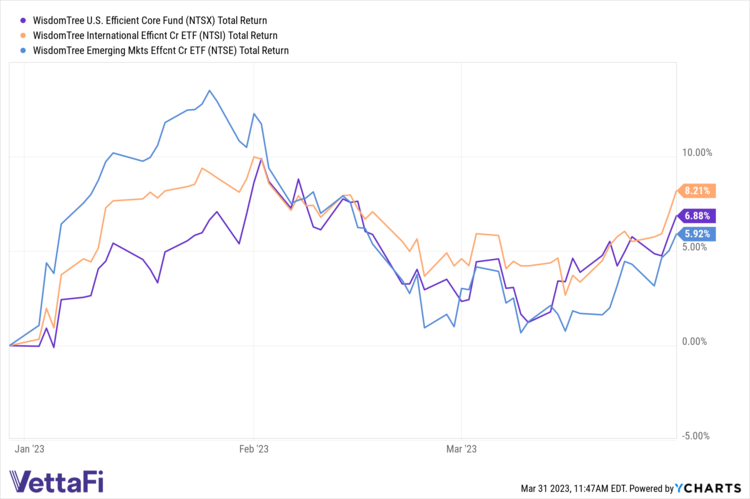 All three combine equities and U.S. Treasury futures contracts, whether U.S. equities, international equities, or emerging markets equities, constructing what is basically a leveraged 60/40 equities and Treasuries portfolio. With Treasuries one of the most attractive, and steady, parts of the market right now, the combination offers exposure to the growth potential of equities and the yields of Treasuries.
See more: 3 Fixed Income ETFs for Institutionals Worried by Rates
NTSX places 90% of its assets in U.S.-based equities and the remaining 10% in Treasury futures, with that "notional exposure" of the Treasuries futures equaling 60% of the fund's assets. As a result, the ETF offers a 90/60 split to stocks and Treasuries, otherwise stated as a 60/40 allocation leveraged 150%. Overall NTSX will generally be exposed to U.S. market cap-weighted U.S. large caps, with Treasuries targeting a three to eight-year duration.
Active ETFs have blossomed YTD, growing their portion of the ETF universe noticeably. An active core augment to a core ETF suite could be a potent tool to add to an advisor's roster as market uncertainty grows. NTSX and its siblings, through their combination of Treasuries and active core equities, offer both leveraged exposure to the stock market and some steady fixed income too. As such, investors may want to watch the suite in the weeks ahead to see how they do in bank crisis volatility.
For more news, information, and analysis, visit the Modern Alpha Channel.
---
Content continues below advertisement