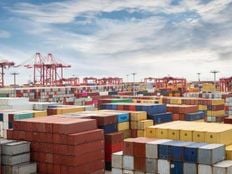 Modern Alpha Channel - ETF Database
Investors haven't quite ditched the inflation and rising interest rate fears. The sentiments that racked the markets in 2022 are reappearing, which makes an inflation hedge like commodities imperative for a portfolio.
The U.S. Federal Reserve acknowledged that getting inflation under control will certainly take some time. A bevy of economic data could cause the Fed to up the ante on interest rate hikes, even though the capital markets were widely expecting a decreased pace this year.
"The Federal Reserve's preferred inflation gauges this week, along with a groundswell of consumer spending, are seen fomenting debate among central bankers on the need to adjust the pace of interest-rate increases," a Bloomberg article noted.
The article pointed out that the U.S. personal consumption expenditures price index is forecasted to rise 0.5% in January relative to the previous month. If so, this would be the largest increase since the middle of 2022; a Bloomberg survey of economists is forecasting that a 0.4% advance is a more accurate reflection of underlying inflation.
"It's stunning that the decline in year-over-year inflation has stalled completely, given the favorable base effects and supply environment. That means it won't take much for new inflation peaks to arise," said a Bloomberg economics team — Anna Wong, Eliza Winger, and Stuart Paul.
Get Inflation Hedging With Active Management
Investors looking to hedge inflation via commodities have a plethora of options to choose from. Whether it's rising oil prices or the safety of precious metals, there's an easier solution: the WisdomTree Enhanced Commodity Strategy Fund (GCC A).
The strategy is a long-only commodity strategy that offers actively managed exposure to four commodity types: energy, agriculture, industrial metals, and precious metals. That active management component offers dynamic exposure to the commodities market, allowing for adjustments to the holdings of the portfolio in order to flex with changing market conditions.
This essentially puts the choice of commodities in the hands of seasoned portfolio managers who can tailor the exposure as certain commodities experience strength over others. The inflation commodities strategy uses futures contracts and considers 25 individual commodities within the four sectors, with the selection and weighting based on things like the broader economic outlook, single commodity forecasts, and liquidity.
For more news, information, and analysis, visit the Modern Alpha Channel.
---
Content continues below advertisement