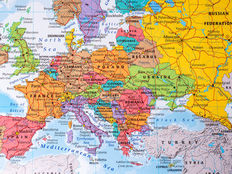 Modern Alpha Channel - ETF Database
Using the S&P Europe 350 and MSCI Europe indexes as guides, it's likely that European equities will again lag their U.S. rivals this year.
That doesn't mean that investors should altogether abandon stocks across the pond, but it does mean that selectivity is key. Fortunately, that choosiness is easily deployed and comes with a robust level of durable income with the WisdomTree Europe Quality Dividend Growth Fund (EUDG B).
EUDG tracks a fundamental index that's home to stocks exhibiting not only impressive growth traits, but also the ability to sustain and grow dividends over time. Those are points to consider because Europe's economy is playing catch-up with the U.S. in terms of re-opening against the coronavirus backdrop. Additionally, global dividends, including European ones, are surging.
Following rampant payout cutting in 2020 due to the COVID-19 pandemic, much of this year's European dividend story is one of renewal, and EUDG is levered to that. Better still, the WisdomTree exchange traded fund is more levered to companies that weren't dividend offenders.
"Overall, EUDG's quality and dividend growth focus resulted in overweight allocations in Consumer Staples and Consumer Discretionary, as well as Health Care, Industrials and Materials relative to its MSCI Europe Index benchmark," notes Alejandro Saltiel, WisdomTree associate director of research.
In Europe, the consumer staples, healthcare, and industrial sectors have long been sources of reliable dividend growth. Those are EUDG's top three sector allocations, combining for nearly 56% of the fund's roster.
Following a recent rebalance, EUDG's geographic exposures are also notable and should be considered by investors.
"For EUDG, the largest changes were increased exposure to Germany, as companies like Adidas AG and Covestro AG were added to the portfolio, and reduced exposure to the U.K. through British American Tobacco being dropped from the portfolio for its increased composite risk score (CRS) as a result of its high dividend yield," adds Saltiel.
Today, Germany, the Eurozone's largest economy, commands nearly 9% of EUDG's roster. Even with British American Tobacco departing the fund, the U.K. remains EUDG's largest geographic weight at 22%, and that's a positive because dividends there are rebounding. France, home to some of the fastest dividend growth in the Eurozone in the third quarter, is EUDG's second-largest geographic allocation at 17%. Switzerland, long one of the steadiest payout destinations in Europe, is third at 16.4%. Overall, 16 countries are represented in EUDG.
For more news, information, and strategy, visit the Model Portfolio Channel.