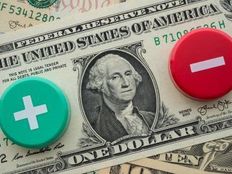 Modern Alpha Channel - ETF Database
Treasury yields started 2023 as an appealing play, thanks to particularly potent yields for a relatively safe long term hold. After falling off a bit, they've since spiked up again as markets anticipate at least three interest rate hikes from the Fed thanks to hot economic data and inflation numbers. As such, U.S. Treasury floating rate notes (FRNs) could be a strong option to ride out turbulence in an ETF like the (USFR A-).
Why FRNs? Well, while your standard 2-Year Treasury can offer very attractive yields, they also are facing risks from interest rate hikes. The last thing an investor wants to see is that the 2-Year note they were so excited about has lost value because the Fed's rate hikes took a chunk out of it. For those investors who want a little bit of that risk for the return but also to buoy their portfolio with some floating rate rolling yields, FRNs can be a solid offering.
USFR tracks a market value-weighted index of FRNs, selecting those notes with a two-year term that have an issue date on or before the index rebalancing date. FRNs reset their coupon rate weekly based on the most recent 90-day T-bill auction, and as such offer a very low risk place to park cash. The index is rebalanced on the last business day of every month.
USFR charges 15 basis points for its exposure to the rolling notes, and has added $108 million over the last month and outperformed its ETF Database Category Average over the last three months and its Factset Segment Average over the last three months, returning 1.2%. in that time.
Whether or not the Treasury yield curve is a real harbinger of recession, USFR has appealed to advisors looking for a shelter from the storm — and while a hard landing possibility is thundering on the horizon, even one more rate hike can see FRNs play a continued role in investor portfolios. USFR led in flows to start the year, and can play a big role going forward for investors interested in an FRN play to ride interest rate hikes.
For more news, information, and analysis, visit the Modern Alpha Channel.