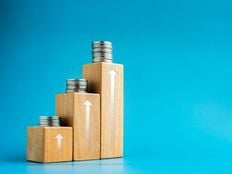 Another week on the books, and though the data may not have picked up all the recent banking-related uncertainty, equity ETFs were hovering around a potent milestone over the last week at about $5 trillion in total AUM. With the SPDR S&P 500 ETF Trust (SPY A) turning 30 this year and still sitting on top as the largest ETF by AUM at $343 billion, it was Vanguard that saw the largest weekly asset flows over the last week.
| Asset Class | AUM ($, mm) | Net Flows ($, mm) |
| --- | --- | --- |
| Bond | $1,307,835.56 | $633.93 |
| Equity | $5,029,409.09 | $261.65 |
| Commodity | $133,734.24 | $31.93 |
| Currency | $3,731.86 | $14.90 |
| Multi-Asset | $30,173.20 | -$101.31 |
| Preferred Stock | $29,521.16 | -$112.88 |
| Alternatives | $5,321.01 | -$167.64 |
| Real Estate | $66,909.29 | -$168.43 |
| Volatility | $2,886.02 | -$240.87 |
Seven of the top ten ETFs by one week's net inflows belonged to Vanguard according to recent data, led by the Vanguard S&P Small-Cap 600 ETF (VIOO B+) with just under $2.2 billion arriving into its coffers. Joining VIOO in that top tier were other small-cap strat, the Vanguard S&P Small-Cap 600 Value ETF (VIOV A-) and the Vanguard S&P Mid-Cap 400 ETF (IVOO B+) with $1.3 billion and $1.5 billion respectively for the last week.
That interest in small-cap strategies speaks to a broader trend of interest in small caps that have been a recent topic of discussion at VettaFi, as the asset class offers a perceived ability to adapt in difficult times that have proved of interest to investors of late.
Equity ETFs may tout some large flows and AUM numbers as ever, but it was bond ETFs that saw the largest net inflows with $634 million for the week, underscoring continued investor and advisor interest in fixed income overall as a safe haven option amid rising rate and recessionary concerns – on top of the last week's bank drama.
No bond ETF exceeded $1 billion in net inflows for the week according to ETF Database, but the SPDR Bloomberg 1-3 Month T-Bill ETF (BIL A-) got close at $993 million in that time – almost double the next-highest inflows coming in for the iShares 0-3 Month Treasury Bond ETF (SGOV A). Treasuries overall did well in weekly asset flows, as has been noted of late at VettaFi, with the WisdomTree Floating Rate Treasury Fund (USFR A-) a continued flows performer with $12 billion over the last year overall.
Finally, in a somewhat surprising fashion, the greatest outflows were borne by volatility ETFs. Specifically, the iPath Series B S&P 500 VIX Short-Term Futures ETN (VXX A-) and the ProShares Ultra VIX Short-Term Futures ETF (UVXY B-) with $180 million and $110 million in net outflows for the last week, respectively. That could be attributed to the duo's use as trading vehicles and the high-octane approach of the latter.
For more news, information, and analysis, visit the Modern Alpha Channel.