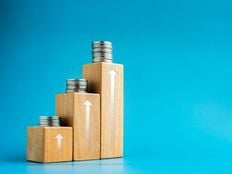 In this edition of the ETF Issuer League, WisdomTree Investments stood out thanks to its flagship ETF. The WisdomTree Floating Rate Treasury Fund (USFR A-) brought in $143.6 million over the last week, building on $2.7 billion YTD. USFR flows helped WisdomTree see the highest inflows in the sub $80 billion AUM issuer tier for the last week. That helped the firm reach $54.3 billion in overall ETF AUM according to the Issuer League table.
The firm didn't rely on USFR flows alone, either, about $30 million ahead of VanEck's $152 million of weekly inflows. The WisdomTree Japan Hedged Equity Fund (DXJ B-) and the WisdomTree Emerging Markets ex-State-Owned Enterprises Fund (XSOE A) combined with $70 million. Those flows suggest continued interest in foreign equities as a tough U.S. market faces volatility.
See more: What's Behind the Spike in Interest for Japan ETFs?
Elsewhere in the table, Capital Group continued a strong flows performance YTD, adding $170 million over the last week. Furthermore, that also takes Capital Group to $9.1 billion in ETF AUM. A few more weeks like that may lift Capital Group into the $10 billion-plus ETF AUM tier. The Capital Group Growth ETF (CGGR B+) led the way with $50 million for the week. CGGR has the second-highest YTD flows with $530 million so far in 2023.
Lower down the ETF AUM rankings, Volatility Shares added $25.6 million to its $220.6 million ETF AUM total over the last week. The firm's focus on volatility paid off for the 2x Long VIX Futures ETF (UVIX ), adding $21.7 million for the week. That builds on $136 million YTD, too, suggesting that week's flows may not have been a fluke. As the U.S. economy faces continued volatility, UVIX may continue to boost the firm in that space.
The week also saw big outflows for both State Street and Invesco, with $3.4 billion and $3.2 billion in outflows respectively. The SPDR S&P 500 ETF Trust (SPY A) saw $2.1 billion in outflows and the Invesco QQQ Trust (QQQ B+) saw $2.7 billion in outflows for the week.
| Issuer | AUM ($, mm) | Net Flows ($, mm) |
| --- | --- | --- |
| BlackRock Financial Management | $2,307,851.45 | -$1,481.98 |
| Vanguard | $2,028,238.29 | $1,397.23 |
| State Street | $960,195.27 | -$3,418.59 |
| Invesco | $362,883.63 | -$3,214.76 |
| Charles Schwab | $281,472.86 | $939.13 |
| First Trust | $136,225.32 | -$160.27 |
| JPMorgan Chase | $112,878.11 | $593.50 |
| Dimensional | $85,845.94 | $438.80 |
| World Gold Council | $65,873.92 | -$26.32 |
| ProShares | $63,020.45 | $51.56 |
| VanEck | $57,390.50 | $151.50 |
| WisdomTree | $54,336.61 | $187.35 |
| Mirae Asset Global Investments Co., Ltd. | $38,875.18 | $124.67 |
| Fidelity | $33,518.65 | $39.46 |
| Goldman Sachs | $28,612.68 | $17.76 |
| Rafferty Asset Management | $27,264.63 | $43.73 |
| American Century Investments | $23,944.05 | $56.10 |
| Pacer Advisors | $23,518.81 | $37.38 |
| Allianz Investment Management LLC | $21,094.18 | $124.24 |
| Northern Trust | $20,568.74 | -$52.08 |
| DWS | $17,622.95 | $26.76 |
| Innovator | $13,534.69 | $43.23 |
| ARK | $12,696.25 | $64.94 |
| Franklin Templeton | $11,629.93 | $40.81 |
| SS&C | $10,514.74 | -$20.98 |
| Capital Group | $9,129.62 | $169.55 |
| CICC | $8,112.66 | -$53.89 |
| TIAA | $7,733.30 | -$6.14 |
| Victory Capital | $7,703.38 | -$42.49 |
| WisdomTree Investments, Inc. | $7,703.35 | -$18.00 |
| Abrdn Plc | $7,426.53 | $4.65 |
| Janus Henderson | $6,920.79 | $60.81 |
| Manulife | $5,282.99 | $7.23 |
| Prudential | $4,911.78 | $68.93 |
| Exchange Traded Concepts | $4,576.73 | -$27.46 |
| Amplify Investments | $4,366.39 | -$1.64 |
| BMO Financial Group | $4,158.90 | $50.24 |
| The Hartford | $4,035.17 | $5.50 |
| New York Life | $3,972.75 | -$3.18 |
| BNY Mellon | $3,759.79 | -$10.73 |
| Marygold | $3,723.07 | -$7.53 |
| ETFMG | $3,665.43 | $11.77 |
| Alpha Architect | $3,552.96 | $10.38 |
| Tidal | $3,374.29 | $5.54 |
| Principal | $2,413.41 | $3.09 |
| Deutsche Bank | $2,313.64 | $0.00 |
| Cambria | $1,865.15 | -$2.87 |
| US Global Investors | $1,854.27 | -$10.74 |
| Aptus Capital Advisors | $1,728.64 | -$34.67 |
| Barclays Capital | $1,622.06 | -$100.51 |
| Power Corporation of Canada | $1,561.16 | $0.18 |
| Main Management | $1,499.37 | $11.45 |
| Bondbloxx Investment Management LLC | $1,498.53 | $38.60 |
| Renaissance Health Service Corp. | $1,488.67 | $78.83 |
| Simplify | $1,437.76 | $13.30 |
| Ameriprise Financial | $1,406.33 | -$0.35 |
| Vident | $1,352.12 | $0.00 |
| GraniteShares | $1,347.12 | $6.22 |
| Virtus Investment Partners | $1,308.70 | $4.51 |
| Sprott | $1,286.35 | $0.30 |
| UBS | $1,209.19 | $0.00 |
| Inspire Investing LLC | $1,190.69 | $2.01 |
| The Motley Fool | $1,155.19 | -$2.98 |
| Horizon Kinetics | $1,140.93 | -$6.90 |
| Rational Capital LLC | $1,114.52 | -$3.14 |
| AdvisorShares | $1,054.20 | $10.01 |
| Distillate Capital | $1,045.95 | -$2.11 |
| T. Rowe Price Group, Inc. | $1,012.52 | $3.51 |
| Davis Advisers | $906.30 | $0.00 |
| AXS Investments | $899.49 | -$1.36 |
| Defiance ETFs | $839.80 | -$3.85 |
| Focus Financial Partners | $822.91 | -$1.06 |
| Harbor | $814.43 | $3.71 |
| iM Global Partner US LLC | $742.07 | -$11.34 |
| Timothy Plan | $715.42 | -$2.23 |
| Redwood | $670.31 | $0.00 |
| Roundhill Investments | $623.81 | $1.09 |
| Engine No. 1 | $566.88 | $3.89 |
| Credit Suisse Group AG | $558.63 | $5.21 |
| Equitable | $539.93 | $0.00 |
| Tortoise | $529.63 | -$2.40 |
| Howard Capital Management | $524.98 | $0.00 |
| Advisors Asset Management | $509.65 | -$4.12 |
| ClearShares LLC | $495.70 | -$2.31 |
| Nationwide | $491.72 | -$0.01 |
| Day Hagan Asset Management | $488.52 | $0.00 |
| Core Alternative Capital | $461.91 | -$7.22 |
| Anfield Group | $459.40 | -$0.23 |
| Doubleline ETF Adviser LP | $447.40 | $0.00 |
| Teucrium | $423.51 | -$2.34 |
| AGF | $404.48 | -$2.06 |
| Aptus Holdings LLC | $398.40 | $19.27 |
| Liquid Strategies | $379.18 | $1.37 |
| FCF Advisors | $366.72 | -$2.38 |
| Envestnet | $335.99 | $0.62 |
| Neuberger Berman | $307.15 | -$1.06 |
| Morgan Stanley | $291.42 | $12.71 |
| Retireful LLC | $282.29 | -$0.48 |
| Wahed | $281.62 | $0.99 |
| Adaptive Investments | $281.48 | $0.00 |
| Oneascent Holdings LLC | $265.42 | $0.00 |
| Cary Street Partners Financial LLC /VA/ | $231.97 | $0.24 |
| Volatility Shares LLC | $220.62 | $25.66 |
| Western & Southern Mutual Holding Co. | $217.71 | -$0.00 |
| WBI | $204.82 | $0.00 |
| Truemark Group | $202.71 | -$0.38 |
| AmeriLife | $199.71 | -$2.64 |
| Matthews International Capital Management | $189.95 | $0.00 |
| Impact Shares | $188.87 | -$0.02 |
| Syntax | $182.83 | $0.00 |
| Little Harbor Advisors | $180.23 | -$0.06 |
| CI Financial | $163.16 | $0.00 |
| Stf Management LP | $157.29 | $0.52 |
| Truist | $151.14 | -$1.16 |
| CornerCap Investment Counsel, Inc. | $151.07 | $0.00 |
| Kingsview Partners LLC | $150.88 | $0.00 |
| Renaissance Capital | $144.87 | $1.47 |
| Rayliant | $134.67 | -$0.39 |
| ORIX | $133.66 | -$1.01 |
| SRN Advisors | $128.47 | -$1.92 |
| Intangible Capital | $127.57 | -$0.01 |
| Humankind USA LLC | $126.81 | $0.00 |
| Thrivent Financial for Lutherans | $124.98 | $0.00 |
| Swan Global Investments | $124.79 | $4.07 |
| Summit Global Investments, LLC | $121.98 | -$1.13 |
| Neil Azous Revocable Trust | $115.92 | -$1.46 |
| Mcivy Co. LLC | $114.72 | $0.00 |
| IronHorse Holdings | $109.55 | $0.00 |
| Federated Hermes, Inc. | $106.36 | $0.59 |
| Paralel Technologies LLC | $105.50 | $0.00 |
| Neos Investments LLC | $105.35 | $0.48 |
| Soundwatch Capital LLC | $103.33 | $0.00 |
| Baird Financial Group | $102.40 | -$0.40 |
| Thor Trading Advisors LLC | $101.32 | -$10.34 |
| Arrow Funds | $98.84 | $0.00 |
| Absolute Investment Advisers LLC | $94.43 | $0.00 |
| Angel Oak Capital Advisors, LLC | $86.79 | $0.00 |
| Toews Corp. | $86.34 | $0.00 |
| Natixis Global Asset Management | $81.74 | $0.56 |
| First Manhattan Co. | $74.92 | $0.00 |
| Inverdale Capital Management LLC | $73.05 | $0.00 |
| SEI Investments | $70.21 | -$0.01 |
| Exponential ETFs | $68.39 | $0.00 |
| Panagram Structured Asset Management, LLC | $67.47 | $0.00 |
| Beyond Investing | $65.51 | -$1.72 |
| Pettee Investors | $64.17 | $0.29 |
| Alexis Investment Partners LLC | $63.95 | $0.00 |
| The Leuthold Group LLC | $63.90 | $0.00 |
| Water Island Capital | $63.72 | -$0.17 |
| Capital Impact Advisors | $62.02 | $0.00 |
| Cohanzick Management | $60.90 | -$6.57 |
| Clockwise Capital LLC | $57.37 | $0.00 |
| Formidable Asset Management | $56.57 | $0.60 |
| Q3 Asset Management Corp. | $55.18 | $0.51 |
| Goose Hollow Capital Management LLC | $50.68 | $0.64 |
| ProcureAM | $49.14 | $0.00 |
| Logan Capital Management Inc. | $48.22 | $0.00 |
| GeaSphere LLC | $48.14 | $0.00 |
| Client First Investment Management LLC | $48.02 | $0.00 |
| Guinness Atkinson Asset Management | $47.43 | $0.00 |
| 2nd Vote Value Investments, Inc | $46.52 | $0.84 |
| Cambiar Holdings | $45.73 | -$0.00 |
| Hennessy Advisors | $44.97 | $0.00 |
| Ridgeline Research LLC | $40.85 | $0.00 |
| Alger | $39.17 | $0.00 |
| Acquirers Funds | $37.17 | $0.00 |
| Zacks | $37.06 | $0.00 |
| Valkyrie Funds LLC | $36.92 | -$2.08 |
| First Pacific Advisors LP | $35.56 | $0.58 |
| Sheaff Brock Capital Management LLC | $30.55 | $1.84 |
| Applied Finance Group | $30.24 | $10.84 |
| GAMCO Investors, Inc. | $28.84 | $0.00 |
| DoubleLine Capital LP | $26.17 | $0.00 |
| ASYMmetric ETFs | $26.05 | $0.00 |
| Highland Capital Management | $26.00 | $0.01 |
| Advocate Capital Management LLC | $25.98 | -$0.64 |
| Convergence Investment Partners, LLC | $25.74 | $1.35 |
| PMV Capital Advisers LLC | $25.12 | -$0.01 |
| Cultivar Capital, Inc. | $23.50 | $0.00 |
| AlphaMark Advisors | $23.17 | $0.00 |
| Reflection Asset Management, LLC | $22.78 | $0.00 |
| Faith Investor Services, LLC | $22.65 | $0.00 |
| Alphatrai Funds, Inc. | $19.66 | -$0.68 |
| Knights of Columbus | $19.00 | $0.00 |
| Point Bridge Capital | $18.54 | $0.00 |
| Mairs & Power, Inc. | $18.08 | -$0.44 |
| Build Asset Management LLC | $17.71 | $0.00 |
| Subversive Capital Advisor LLC | $13.97 | $0.00 |
| Lifegoal Investments LLC | $12.56 | $0.00 |
| WealthTrust Asset Management LLC | $12.34 | $0.51 |
| Democracy Investment Management LLC | $11.78 | $0.00 |
| Tuttle Tactical Management, LLC | $11.77 | -$0.00 |
| Changebridge Capital LLC | $11.43 | -$0.23 |
| The BAD Investment Company | $8.89 | $0.00 |
| Beacon Capital Management | $8.52 | $1.50 |
| Future Fund Advisors | $8.12 | $0.00 |
| Rcube SAS | $7.94 | $1.13 |
| Counterpoint Mutual Funds LLC | $7.82 | $0.00 |
| Tema Global Ltd. | $6.82 | $2.26 |
| Lyrical Partners | $5.58 | $0.00 |
| VegTech LLC | $5.13 | $0.00 |
| Digital Currency Group, Inc. | $4.69 | $0.00 |
| Cboe | $4.64 | $0.00 |
| Spear Advisors LLC | $3.97 | $0.38 |
| Kelly Intelligence LLC | $3.85 | $0.00 |
| V-Square Quantitative Management LLC | $3.73 | $0.00 |
| Dynamic Shares LLC | $3.24 | $0.00 |
| Emerge Capital Management, Inc. | $3.01 | -$0.48 |
| Jacob Asset Management | $2.87 | $0.00 |
| Element ETFs LLC | $2.57 | $0.00 |
| Hypatia Capital Advisors LLC | $2.21 | $0.00 |
| Penserra Capital Management LLC | $2.16 | $0.00 |
| Emles Advisors LLC | $2.01 | $0.00 |
| Dalton Capital | $1.76 | $0.00 |
| Convexityshares, LLC | $1.41 | $0.00 |
| Bitwise Asset Management, Inc. | $1.34 | $0.00 |
| Kingsbarn Capital Management LLC | $1.14 | $0.00 |
| Grizzle Investment Management LLC | $1.12 | $0.00 |
| Merk | $1.12 | $0.00 |
| Inherent Wealth Fund LLC | $0.91 | -$0.30 |
| Parabla, LLC | $0.58 | $0.00 |
| Tradelegs LLC | $0.52 | $0.00 |
| Driveadvisory LLC | $0.00 | $0.00 |
| Sprott Asset Management | $0.00 | $0.00 |
| AB Holding | $0.00 | $0.00 |
| Calamos Family Partners | $0.00 | $0.00 |
---
Content continues below advertisement