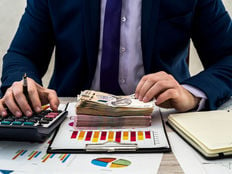 Tax Efficient Income Channel
Bank stability fears have spilled over to international banks and volatility is spiking in U.S. markets on the heels of two U.S. bank failures in recent days. Advisors and investors that are considering cash should look to the NEOS Enhanced Income Cash Alternative ETF (CSHI ) as a way to put money to work earning income in the short-term while implied market volatility remains pronounced.
Credit Suisse is the latest bank to experience a sharp drop in share prices, hitting new lows on Wednesday as the bank's stock dropped more than 25% on concerns that the bank could need bailing out. It's faced some troubles in recent years and reported on Tuesday that it had found "material weakness" in its financial reports.
The bank is the second-largest in Switzerland and a key player on the international finance stage and on the heels of the collapse of two U.S. banks, markets are now contending with potential bank risk at home and abroad.
"If regulators do not handle the Credit Suisse situation well, this will send shockwaves through the whole sector," Joost Beaumont, head of bank research at ABN Amro, a Dutch lender, told the WSJ. "To make matters worse, both sides of the Atlantic have banking issues."
The VIX (CBOE Volatility Index) which measures expectations of volatility through options prices, continued its rapid ascent on Wednesday, crossing above 29 for the first time since October 2022 as implied volatility soars — generally, any reading above 30 is considered extreme uncertainty.
Cash Alternatives Offer Opportunity Amidst Volatility
Investors have flooded back into the safety of treasuries as fears of bank contagion spreads, driving yields on the 2-year Treasury from their 5% highs last week to currently around 3.8% as of midday trading on Wednesday.
The ultra-short three-month T-bills are currently yielding 4.7% as of midday Wednesday, having fallen from 4.9% the previous day, a marginal drop compared to the full 1% drop in the two-year treasury rate over the same period.
Cash and cash alternatives are appealing for the liquidity they offer and the stability they can provide when equities and/or bonds are underperforming. They're seen as a safety net of sorts, and advisors are already putting cash allocations to work for them through funds like the NEOS Enhanced Income Cash Alternative ETF (CSHI ).
CSHI is an actively managed ETF to consider that's offering a distribution yield of 5.66%, as of February 28, 2023.
---
Content continues below advertisement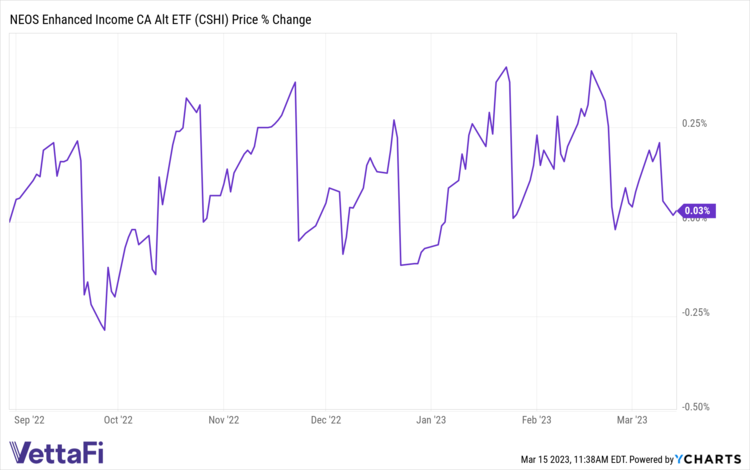 It's an options-based fund that is long on three-month Treasuries and also sells out-of-the-money SPX Index put spreads that roll weekly to account for market changes and volatility. It seeks to deliver 100–150 basis points above what 90-day Treasuries are yielding while also taking advantage of tax-loss harvesting opportunities and the tax efficiency of index options.
The put options that the fund uses are not ETF options but instead are S&P 500 index options that are taxed favorably as Section 1256 Contracts under IRS rules. This means that the options held at the end of the year are treated as if they had been sold on the last market day of the year at fair market value, and, most importantly, any capital gains or losses are taxed as 60% long-term and 40% short-term, no matter how long the options were held. This can offer noteworthy tax advantages, and the fund's managers also may engage in tax-loss harvesting opportunities throughout the year on the put options.
CSHI has an expense ratio of 0.38%.
For more news, information, and analysis, visit the Tax-Efficient Income Channel.