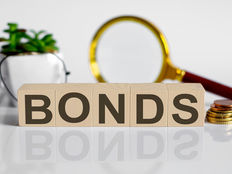 Tax Efficient Income Channel
Rising rates have taken their toll on bond prices this year, pushing yields ever higher. As the Fed rate hiking cycle eases in the latter part of the year, bonds look increasingly attractive. For advisors and investors wanting to increase their allocations, the (BNDI A-) is a strong contender, generating better returns within bonds.
Coming off a challenging year for stocks and bonds last year, bond prices continued to plummet this year. The Federal Reserve's aggressive interest rate hiking regime sent bond prices tumbling for much of the year. Though it remains to be seen if the Fed will raise rates again before year's end, bonds are currently offering extremely attractive yields. (Bond prices and yields move inverse to each other.)
"If history is a guide, there may be a hiccup in the bond market over the short-term during a rising rate environment," Judith Ward, CFP and thought leadership director at T. Rowe Price, said in a paper on bonds in rising rates environments. However, "longer term, it means higher coupon payments bolstering total returns over time."
Research from T. Rowe Price found that historically, during years the Fed hiked rates, bond returns losses were constrained to just one year. While past performance does not indicate future results, decreasing interest rate risk and higher coupon rates make bonds increasingly attractive.
Seize Opportunity in Bonds With Outperforming BNDI
Many investors pivoted their duration exposure within bonds in the last year, and reduced bond allocations. For those looking to move further out the curve once more or wanting to increase bond allocations as risk mitigates, the (BNDI A-) is worth consideration. BNDI continues to prove a strong performer compared to the broad bond market.
---
Content continues below advertisement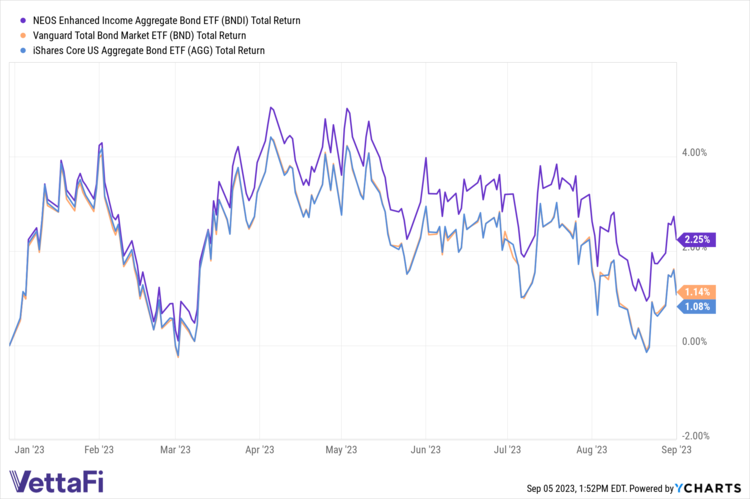 BNDI is significantly outperforming the benchmark YTD on a total returns basis, as measured by the (AGG A) and the (BND A). As of the end of July, BNDI had a distribution yield 5.17% and a 30-day SEC yield of 2.32% (excludes income from options).
The fund invests in BND and the AGG. However, the income and capital gains BNDI receives from its bond allocations are enhanced by adding monthly income from the fund's put-option strategy on the S&P 500. The strategy includes selling short puts and buying long puts to protect against volatility.
The strategy may offer positive returns in both flat and rising equity markets. It may also generate positive returns in moderately declining equity markets. This is possible if the premium earned from the puts is greater than the cost to close out the positions. BNDI may also offer a lower correlation to certain risk factors such as duration, credit, and inflation risk.
BNDI's put options aren't ETF options but S&P 500 index options. These options are taxed favorably as Section 1256 Contracts under IRS rules. The IRS treats options held at the end of the year as if the investor had sold on the last market day of the year at fair market value. Most importantly, the IRS taxes any capital gains as 60% long-term and 40% short-term, no matter how long the fund held them.
This treatment can offer noteworthy tax advantages. In addition, the fund's managers also may engage in tax-loss harvesting opportunities throughout the year on the put options.
BNDI currently has an expense ratio of 0.58%.
For more news, information, and analysis, visit the Tax Efficient Income Channel.