Tax Efficient Income Channel
The economic and inflationary narrative appear hopeful for now according to markets in the wake of Fed remarks this week. Despite the hopeful trajectory, the path forward remains complex. Investors concerned about uncertainty and looking to put their cash to work increasingly moved funds into the NEOS Enhanced Income Cash Alternative ETF (CSHI ) this month.
Recent remarks by Federal Reserve Chair Jerome Powell at Jackson Hole seemed to indicate the Fed is content to wait and watch how the inflation narrative plays out for now. Powell was quick to caution, however, about recent indicators that the economy could be gaining steam once more. Should economic growth continue above the trend for a 2% inflation goal, it could lead to further inflationary pressures and the need to tighten again.
While the remarks were interpreted as largely hopeful by markets, much remains uncertain. Markets remain data-dependent and driven up and down based on each new piece of economic data. It's the trend of the last year and volatility looks to continue for now as the path forward remains clouded.
Advisors and investors seeking to hedge for uncertainty in cash, or put current cash allocations to work, should consider CSHI. The fund experienced steady inflows this month as uncertainty peaked once more on concerns about the Fed narrative. From August 1 to August 24, the fund is up $26 million in net flows. Since January, CSHI brought in nearly $130 million in net flows.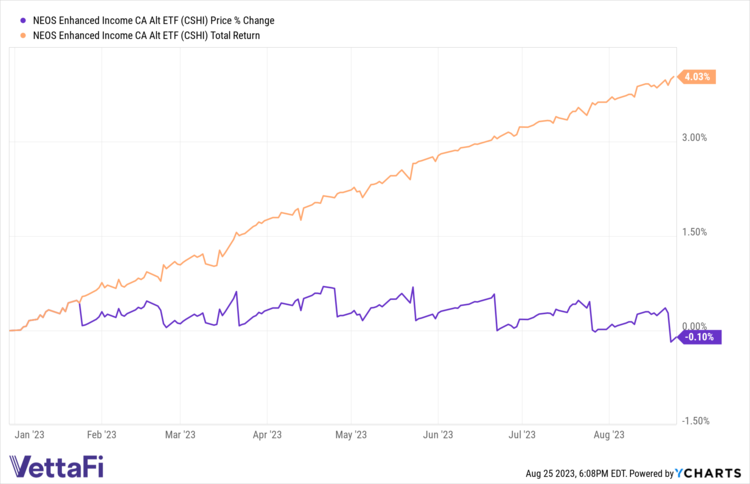 Tax-Efficient Income with This Cash Alternative ETF
The NEOS Enhanced Income Cash Alternative ETF (CSHI ) remains a compelling buy this fall. The fund currently offers a distribution yield 6.51% as of July 31, 2023, and a 30-day SEC yield of 4.81%. Distribution yield is calculated by annualizing the most recent distribution and dividing by the fund's NAV. Thirty-day SEC yield excludes yield earned on options.
CSHI is an actively managed ETF that generates high monthly income and is an options-based fund. CSHI is long on three-month Treasuries and also sells out-of-the-money SPX Index put spreads. These roll weekly to account for market changes and volatility.
CSHI seeks to deliver 100–150 basis points above what 90-day Treasuries are yielding. CSHI also seeks to take advantage of tax-loss harvesting opportunities and the tax efficiency of index options.
The put options that the fund uses are not ETF options but instead are S&P 500 index options. These options receive favorable tax treatment as Section 1256 Contracts under IRS rules. This means that the options held at the end of the year are treated as if they had been sold on the last market day of the year at fair market value.
Any capital gains or losses are taxed as 60% long-term and 40% short-term, regardless of how long the options were held. This can offer noteworthy tax advantages, and the fund's managers also may engage in tax-loss harvesting opportunities throughout the year on the put options.
CSHI has an expense ratio of 0.38%.
---
Content continues below advertisement