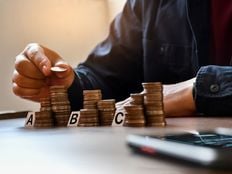 Tax Efficient Income Channel
Advisors and investors looking to increase monthly income potential within core allocations need look no further than NEOS. The firm offers a noteworthy suite of tax-efficient income ETFs to compliment or replace current core portfolio allocations while boosting portfolio yield.
The (SPYI A-) seeks to capture income opportunities within equities. Meanwhile the (BNDI A-) invests across the broad bond market. For advisors looking at ultra-short duration opportunities, the (CSHI ) invests in 90-day Treasury bills.
All three funds utilize options on the S&P 500 index to enhance tax-efficient income opportunities. SPYI writes call spreads on equities while BNDI and CSHI utilize put spreads.
These options are options classified as Section 1256 contracts that have favorable tax rates. 60% of capital gains from the premiums are taxed as long-term, and 40% are taxed as short-term, regardless of how long the options were held.
Enhance Portfolio Yield Potential With NEOS' ETFs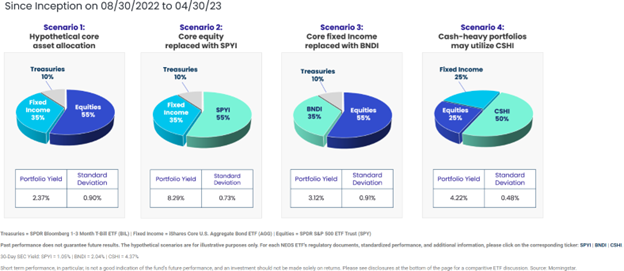 ---
Content continues below advertisement
The funds launched in August 2022 and since their inception, have generated greater yield than their benchmarks. A model portfolio consisting of 55% equities, 35% bonds, and 10% treasures between 08/30/22 and 04/30/23 generated 2.37% yield.
By replacing just the equity sleeve with SPYI over the same period, the model portfolio yielded 8.29%. Replacing just bonds with BNDI generated portfolio yield of 3.12%.
A cash-focused model portfolio comprised of 25% equities and 25% bonds that replaced basic Treasuries exposure with CSHI yielded 4.22% over the same period.
Though the funds are young, they offer noteworthy performance and advisors and investors continue to take note. Collectively, the three funds have brought in over $94 million YTD.
For more news, information, and analysis, visit the Tax Efficient Income Channel.