Tax Efficient Income Channel
Treasury yields soared this week as markets remain tense over debt ceiling negotiations. 3-month Treasury yields reached two decade highs and continue to climb with investors taking note in the (CSHI ).
Yields for the 2-year and 10-year Treasury hit two-month highs this week as debt ceiling negotiations drag on. Meanwhile, the 3-month Treasury reached fresh highs with yields of 5.37% as of Wednesday (yields move inversely to prices). Current yields in the 3-month Treasury are at levels not seen since December, 2000.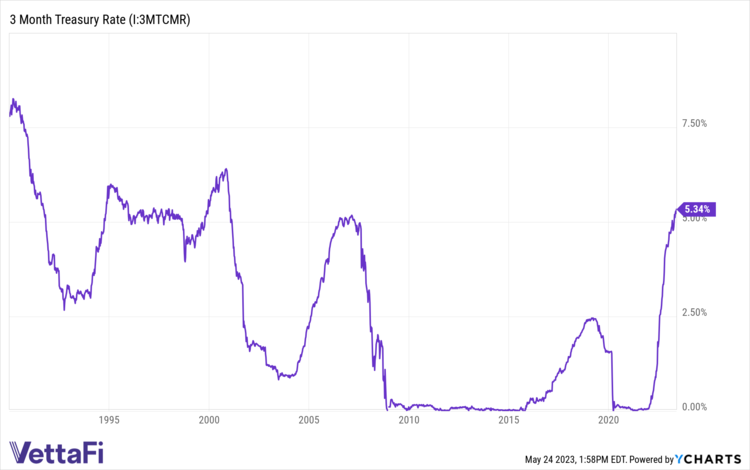 CSHI Capitalizes on 3-Month Treasury Yields
Advisors and investors flocked to the (CSHI ) in May. Since May 1 CSHI has $41.57 million in net flows. CSHI launched in August 2022 and current AUM is $90.5 million and climbing.
The fund  is an actively managed ETF that generates high monthly income. CSHI offered a distribution yield 6.15%, as of April 30, 2023. It also generated a 30-day SEC yield of 4.37% over the same period.
---
Content continues below advertisement
It's an options-based fund that is long on three-month Treasuries and also sells out-of-the-money SPX Index put spreads. These roll weekly to account for market changes and volatility. It seeks to deliver 100–150 basis points above what 90-day Treasuries are yielding. CSHI also seeks to take advantage of tax-loss harvesting opportunities and the tax efficiency of index options.
See also: NEOS ETFs Boost Income Tax Efficiency Potential for Portfolios
The put options that the fund uses are not ETF options but instead are S&P 500 index options. There are options that are taxed favorably as Section 1256 Contracts under IRS rules. This means that the options held at the end of the year are treated as if they had been sold on the last market day of the year at fair market value.
Any capital gains or losses are taxed as 60% long-term and 40% short-term, no matter how long the options were held. This can offer noteworthy tax advantages, and the fund's managers also may engage in tax-loss harvesting opportunities throughout the year on the put options.
CSHI has an expense ratio of 0.38%.
For more news, information, and analysis, visit the Tax Efficient Income Channel.