Tax Efficient Income Channel
Economic hardship looms large on the horizon for the U.S. this year as aggressive Fed policy is forecast to cause sharp economic drawback, increasing the risk of recession. Many advisors and investors are increasing their allocations to cash and cash alternatives given the headwinds that equities face this year. For those seeking income opportunities within cash alternatives, the (CSHI ) is worth strong consideration given its distribution yields of over 5%.
Inflationary pressures continue to persist from the resilient jobs market, causing investor uncertainty around how the Fed will respond as it continues rate hikes. However, new warnings from logistics managers regarding supply chains that are inundated with inventory are likely to cause persistent price pressures on the goods side, resulting in sticky inflation and price increases that will be passed on to consumers in the second and third quarter.
"In 2022, we saw rate levels for international air and ocean and domestic trucking fall back down to Earth," Brian Bourke, global chief commercial officer at SEKO Logistics, told CNBC. "But inflationary pressures remain where demand outpaces supply in 2023, including in warehousing through most of the United States, domestic parcel and labor."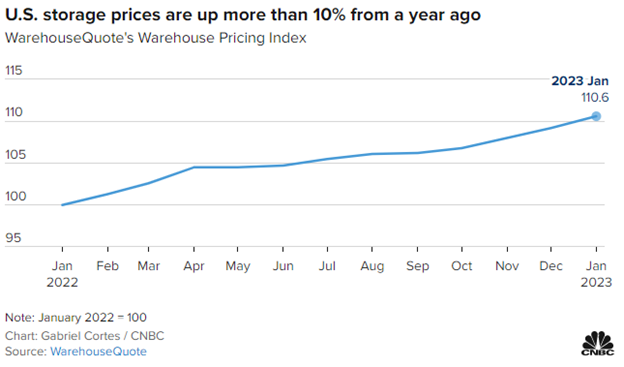 Warehouses are currently charging historically high fees, and with the glut of inventory, shipping containers are sitting for months beyond their allotted holding times, incurring late fees and charges that will end up passed directly to consumers.
"Late fees and warehouse fees are passed onto the consumer, which is why we are not seeing products fall as much as they should," said Paul Brashier, vice president of dryage and intermodal for ITS Logistics.
---
Content continues below advertisement
Investing for Recession Risk Within Cash Alternatives
It remains to be seen how the Fed will navigate persistent inflationary pressures from a number of sources this year. For advisors and investors looking to put their cash on the sidelines to work while positioning more defensively, the (CSHI ) is an actively managed ETF to consider that's offering a "distribution yield":https://neosfunds.com/cshi/ of 5.54% as of January 31, 2023.
CSHI launched in August 2022 and is already garnering attention. It's an options-based fund that is long on three-month Treasuries and also sells out-of-the-money SPX Index put spreads that roll weekly to account for market changes and volatility. It seeks to deliver 100–150 basis points above what 90-day Treasuries are yielding while also taking advantage of tax-loss harvesting opportunities and the tax efficiency of index options.
The put options that the fund uses are not ETF options but instead are S&P 500 index options that are taxed favorably as Section 1256 Contracts under IRS rules. This means that the options held at the end of the year are treated as if they had been sold on the last market day of the year at fair market value, and, most importantly, any capital gains or losses are taxed as 60% long-term and 40% short-term, no matter how long the options were held. This can offer noteworthy tax advantages, and the fund's managers also may engage in tax-loss harvesting opportunities throughout the year on the put options.
CSHI has an expense ratio of 0.38%.
For more news, information, and analysis, visit the Tax-Efficient Income Channel.