Tax Efficient Income Channel
September's headline CPI print came out slightly higher than market expectations as inflation remains sticky. Markets slipped in trading Thursday as investor fears regarding rate hikes take further root. In a challenging, uncertain environment, cash alternatives continue to prove popular with investors.
Headline CPI rose 3.7% year-over-year and 0.4% month-over-month in September, above analyst expectations of a 0.3% increase. Core inflation rose 0.3% in alignment with expectations. September's strong producer price index reading, though down from August's reading, still came in higher than market predictions.
The readings, coupled with still climbing Treasury yields, sent markets tumbling Thursday.
"Every [CPI] print that comes in where it shows more stickiness chips away at the inherent belief we will eventually get to 2% inflation," Phillip Colmar, managing partner and global strategist at MRB Partners, told CNBC. "We're not going to 2% inflation, but the bond market still wants to believe we will or come close to it."
For investors, it creates a nearly impossible field to navigate, with no real forward-looking, reliable guidance. In such an environment of heightened uncertainty, investors continue to take haven in cash and cash alternatives.
Opportunities, Noteworthy Yields in Cash Alternatives
Advisors and investors increasing their cash allocations amidst uncertainty should look to the NEOS Enhanced Income Cash Alternative ETF (CSHI ), given the fund's returns and yields.
---
Content continues below advertisement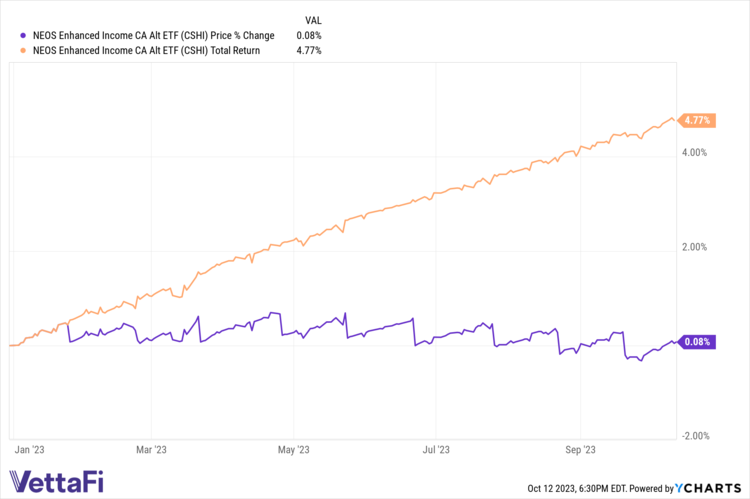 CSHI is an actively managed ETF that generates high monthly income and is an options-based fund. CSHI is long on three-month Treasuries and also sells out-of-the-money SPX Index put spreads. These roll weekly to account for market changes and volatility.
CSHI seeks to deliver 100–150 basis points above what 90-day Treasuries are yielding. CSHI also seeks to take advantage of tax-loss harvesting opportunities and the tax efficiency of index options. It's been popular with investors this year, particularly in times of market turbulence.
CSHI is up nearly $33 million in net flows in October and has net flows of $188 million YTD. The fund currently has a distribution yield of 6.21% and a 30-day SEC yield of 4.99% as of 09/30/2023.
The put options that the fund uses are not ETF options but instead are S&P 500 index options. These options receive favorable tax treatment as Section 1256 Contracts under IRS rules. This means the options held at the end of the year are treated as if sold on the last market day of the year at FMV.
Any capital gains or losses are taxed as 60% long-term and 40% short-term. Notably, this tax treatment applies regardless of how long the options were held. This can offer noteworthy tax advantages, and the fund's managers also may engage in tax-loss harvesting opportunities throughout the year on the put options.
CSHI has an expense ratio of 0.38%.
For more news, information, and analysis, visit the Tax-Efficient Income Channel.