Tax Efficient Income Channel
Markets dropped yesterday on the heels of a speech from Federal Chair Jerome Powell indicating that the central bank could be considering higher rate hikes in light of February's strong economic data. As volatility continues and the likelihood increases of higher interest rates at a faster pace than previously anticipated, advisors looking to put their increasing cash allocations to work garnering income should consider the opportunities in the (CSHI ).
As of Monday, investors had priced in the likelihood of a 0.50% interest rate increase at the March FOMC meeting of about 30%, but on the heels of Powell's speech, that likelihood is now sitting at 78.6%, according to CME Group's FedWatch tool. Add into the mix private payrolls surprising to the upside in February — rising 242,000 on expectations of 205,000 — and the narrative of more aggressive hikes faster looks increasingly more likely.
"The latest economic data have come in stronger than expected, which suggests that the ultimate level of interest rates is likely to be higher than previously anticipated," Powell said in his testimony to Congress on Monday. Of note, there is little sign of weakening in many of the key indicators that the Fed uses to set monetary policy, including core services and wage gains.
Markets closed overwhelmingly down on Monday with the S&P dropping 1.53% and falling below the 4,000 threshold, the Dow sliding 575 points, and the Nasdaq Composite dropping 1.25%. Meanwhile, bond yields spiked with the two-year Treasury hitting its highest yield since the 5% from 2007 and the financial crisis.
Cash and cash alternatives are appealing for the liquidity they offer and the stability they can provide when equities and/or bonds are underperforming. They're seen as a safety net of sorts, and advisors are already putting cash allocations to work for them through funds like the (CSHI ).
CSHI is an actively managed ETF to consider that's offering a "distribution yield":https://neosfunds.com/cshi/ of 5.66%, as of February 28, 2023. The fund launched in August 2022 and is already garnering attention; year-to-date it's already brought in $20 million in net flows.
It's an options-based fund that is long on three-month Treasuries and also sells out-of-the-money SPX Index put spreads that roll weekly to account for market changes and volatility. It seeks to deliver 100–150 basis points above what 90-day Treasuries are yielding while also taking advantage of tax-loss harvesting opportunities and the tax efficiency of index options. Three-month T-bills are currently yielding 4.76%, higher than their long-term average of 4.17%.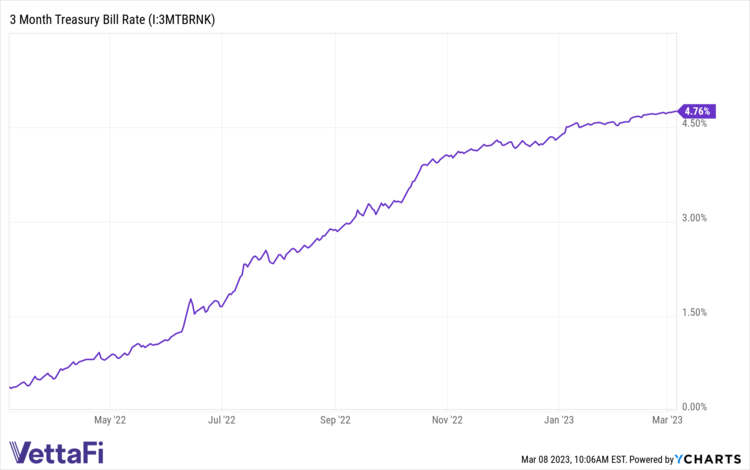 The put options that the fund uses are not ETF options but instead are S&P 500 index options that are taxed favorably as Section 1256 Contracts under IRS rules. This means that the options held at the end of the year are treated as if they had been sold on the last market day of the year at fair market value, and, most importantly, any capital gains or losses are taxed as 60% long-term and 40% short-term, no matter how long the options were held. This can offer noteworthy tax advantages, and the fund's managers also may engage in tax-loss harvesting opportunities throughout the year on the put options.
CSHI has an expense ratio of 0.38%.
For more news, information, and analysis, visit the Tax Efficient Income Channel.
---
Content continues below advertisement