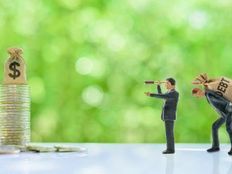 Tax Efficient Income Channel
After a tumultuous and challenging year for fixed income, money is pouring back into some of the largest bond ETFs in 2023. Bonds are likely to be an increasingly popular choice this year as continued economic slowdown is likely to impact equities for much of the year, and for advisors looking to expand or diversify their core bond allocations, the is worth consideration.
BNDI is an actively managed ETF that seeks to offer enhanced monthly income distributions for investors by investing across the broad U.S. Aggregate Bond Market while also implementing a tax-efficient options strategy that generates additional income. The fund invests in the , which had net flows of $1.2 billion in the last week, and the , which had net flows of $354 million in the last week, to gain broad exposure to the U.S. bond market.
The income and capital gains that BNDI receives from its bonds allocations are then enhanced by the addition of monthly income from the fund's put option strategy on the S&P 500 that sells short puts while also buying long puts to protect for volatility.
The strategy is expected to offer positive returns in both flat and rising equity markets and can generate positive returns in moderately declining equity markets as long as the premium from the puts bought and sold is greater than the cost to close out the positions. Additional benefits of an options-based strategy can mean that the fund may offer lower correlation to certain risk factors, including duration, credit, and inflation risk.
The put options that the fund uses are not ETF options but instead are S&P 500 index options that are taxed favorably as Section 1256 Contracts under IRS rules. This means that the options held at the end of the year are treated as if they had been sold on the last market day of the year at fair market value, and, most importantly, any capital gains or losses are taxed as 60% long-term and 40% short-term no matter how long the options were held. This can offer noteworthy tax advantages, and the fund's managers also may engage in tax-loss harvesting opportunities throughout the year on the put options.
BNDI currently has a of 5.06% as of December 30, 2022, and an expense ratio of 0.58%, and it could be a noteworthy diversifying opportunity within bonds in 2023.