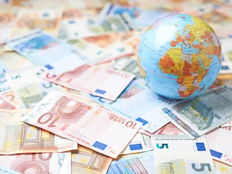 International dividend stocks and the related ETFs can play pivotal roles in income-generating portfolios, but how investors access ex-US dividends is an important part of the equation. The FlexShares International Quality Dividend Index Fund (IQDF B+) takes a quality approach to ex-US payouts.
Low-interest rates in the U.S. have sent investors flocking to dividend stocks and ETFs in recent years. With central banks throughout the developed world paring rates and engaging in monetary easing, government bond yields are falling, giving investors good reason to consider international dividend ETFs.
Stocks in Europe and in international developed markets often have higher yields than those in the U.S. That means it's possible to take advantage of a dividend growth strategy and relatively high dividend yields. International dividend growth stocks also come without the added U.S. interest rate sensitivity of high dividend-paying stocks.
Looking Inside IQDF
"Foreign stocks might look enticing to income-oriented investors," said Morningstar in a recent note. "As of this writing, foreign-stock mutual funds and exchange-traded funds offer higher yields than U.S.-stock funds."
IQDF screens for management efficiency, profitability and cash flow. Each company has to show management efficiency or firms that efficiently deploy capital and make smart financing decisions. Companies with wider profit margins are better positions to grow and maintain dividends than those with slimmer margins. Additionally, firms that can meet debt obligations and day-to-day liquidity needs are better capable of maintaining dividends.
Ex-U.S. developed market dividend payers often feature larger yields than their U.S. counterparts, an assertion proven by comparing large- and mega-cap dividend stocks from familiar dividend sectors such as consumer staples, energy, financial services, and telecommunications.
Related: A Dividend ETF Built For Tumultuous Times
Using the FlexShares Dividend Quality Score (DQS), as represented in an ETF such as IQDF, can help investors find reliable ex-US equity income.
"For international dividend payers, the DQS score evaluates dividend-paying equities across all of these lenses, ranks companies on a sector basis and evaluates firms on both a regional and sector basis. This not only ensures an 'apples-to-apples' comparison – profiling like firms against each other – it also serves to identify quality companies in every sector and country, supporting diversification through the construction process and opportunity set," according to FlexShares.
This article originally appeared on ETFTrends.com.
---
Content continues below advertisement