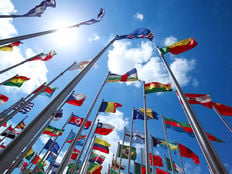 Investors looking for added equity income at a time of still low-interest rates throughout the developed world can consider international dividend ETFs. A compelling option from that group is the FlexShares International Quality Dividend Defensive Index Fund (IQDE A-).
FlexShares quality dividend ETFs screen for management efficiency, profitability and cash flow. Each company has to show management efficiency or firms that efficiently deploy capital and make smart financing decisions. Companies with wider profit margins are better positions to grow and maintain dividends than those with slimmer margins. Additionally, firms that can meet debt obligations and day-to-day liquidity needs are better capable of maintaining dividends.
The quality factor is based on profitability, efficiency, earnings quality and limited leverage, which have historically been a good way to separate good companies from weaker ones.
Ex-U.S. developed market dividend payers often feature larger yields than their U.S. counterparts, an assertion proven by comparing large- and mega-cap dividend stocks from familiar dividend sectors such as consumer staples, energy, financial services, and telecommunications.
Investigating IQDE
An advantage with IQDE is the FlexShares Dividend Quality Score (DQS).
The DQS screening process evaluates dividend-paying stocks across a number of various factors and ranks those on a sector basis and compares firms on both a regional and sector basis. In this way, the screen compares like firms against one another and also serves to pick out those in every country and sector that support diversification through the construction process.
Low-interest rates in the U.S. have sent investors flocking to dividend stocks and ETFs in recent years. With central banks throughout the developed world paring rates and engaging in monetary easing, government bond yields are falling, giving investors good reason to consider international dividend ETFs.
Related: ETFs to Navigate Falling Rates Using High Yield, Dividends & Real Estate
IQDE, which holds nearly 200 stocks, has an impressive distribution yield of 5.76%.
The six and a half-year-old fund allocates just over a third of its weight to the financial services and consumer discretionary sectors. Industrial and communication services stocks combine for almost 19%.
This article originally appeared on ETFTrends.com
---
Content continues below advertisement