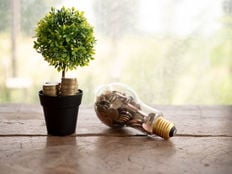 Vanguard doesn't have many actively managed ETFs, but the index fund giant got into that business last year with the launches of six ETFs, including the Vanguard U.S. Multifactor ETF (VFMF B+).
VFMF seeks to provide long-term capital appreciation by investing in stocks with relatively strong recent performance, strong fundamentals, and low prices relative to fundamentals. VFMF uses a rules-based methodology to evaluate U.S. equities and weed out volatile names.
"After applying an initial screen to remove the most volatile stocks in the universe, stocks are then selected according to their equally weighted ranking across three targeted factors; momentum- stocks that exhibit strong recent performance, quality- stocks that exhibit strong fundamentals, and value- stocks with low prices relative to fundamental," according to Vanguard.
The Vanguard multi-factor ETF includes large-, mid- and small-cap stocks and is home to 601 stocks with a median market value of $8.9 billion, indicating a mid-cap tilt.
VFMF Emphasizes Three Factors
VFMF emphasizes the momentum, quality and value factors.
"The metrics behind the three-factor scores aren't special," said Morningstar in a recent note. "Vanguard assesses value based on price relative to book value, forward earnings, and cash flow. The momentum score is based on total returns over the past seven and 12 months (excluding the most recent one) and risk-adjusted returns over the past 12 months. Return on equity, gross profitability and balance-sheet strength determine the quality score."
VFMF allocates nearly 40% of its combined weight to financial services and consumer discretionary stocks. The fund charges just 0.18% per year, or $18 on a $10,000 investment, making it attractively priced compared to other actively managed equity funds.
Related: Drilling Down on Vanguard's Active Multi-Factor ETF
"Because it uses a composite factor score to select its holdings, this fund won't necessarily own the cheapest stocks or the stocks with the best momentum, but rather it will own those with the best overall combination of characteristics," according to Vanguard. "This should lead to slightly more potent factor exposure at the portfolio level than an investor could achieve by combining Vanguard's individual factor exchange-traded funds because there isn't much overlap among their holdings, which can dilute the combined portfolio's factor exposures."
VFMF is up 9.57% year-to-date.
This article originally appeared on ETFTrends.com.
---
Content continues below advertisement