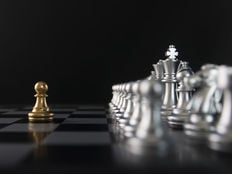 Defensive stocks and sectors have been thriving lately and with concerns mounting regarding the strength of growth stocks, investors may want to take advantage of strength in the former and weakness in the latter with a unique strategy, such as the Direxion MSCI Defensives Over Cyclicals ETF (RWDC B).
RWDC's underlying index is built with a 150% long component and 50% short component, resulting in a net exposure of 100% of assets. The ETF provides relative outperformance if the long component outperforms the short component. The strategy implements the long side of the trade, and then also rewards an investor when a macro view is correct. Specifically, RWDC goes long health care, consumer staples, energy, and utilities while going short information technology, financials, consumer discretionary, communication services, industrials, real estate and materials.
Some benchmarks confirm the strength in defensives.
"Further examination through the lens of the Russell Defensive & Dynamic Indexes shows defensive-oriented stocks as a key driver among both large and small caps," said FTSE Russell in a recent note. The Russell 1000 Defensive Index has returned 22.4% in 2019 as compared to an 18.6% return for its Dynamic counterpart."
Getting It Right With RWDC
The recent macro environment has given rise to defensive groups over their higher beta rivals.
"Several macroeconomic drivers have been fueling the strong outperformance of defensive stocks over their cyclical counterparts," said FTSE Russell Managing Director Alec Young. "The biggest has been widespread fears of slowing global growth which has only been exacerbated by seemingly endless US-China trade tensions. This has led companies in defensive, counter-cyclical businesses to lead more economically sensitive stocks."
Related: Investors Need to Play Defense Strategically in Today's Market
For investors looking for continued upside in U.S. cyclical sectors over defensive sectors, the Direxion MSCI Cyclicals Over Defensives ETF (RWCD C+) offers them the ability to benefit not only from cyclical sectors potentially performing well but from their outperformance compared to defensive sectors.
"Investors looking for cues on better cyclical stock performance may want to focus on the outlook for global growth and the direction of long term interest rates. If confidence in growth improves and interest rates begin to head higher it's logical to assume cyclical stock performance may become more competitive," said Young.
This article originally appeared on ETFTrends.com
---
Content continues below advertisement