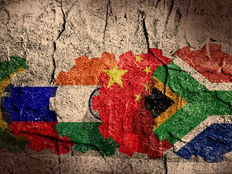 Buoyed not only by declining Treasury yields in the U.S. but a spate of interest rate reductions by emerging markets central banks as well, developing world debt and the related ETFs are surging this year.
For example, the iShares J.P. Morgan USD Emerging Markets Bond ETF (EMB A-), the largest ETF in this category is higher by about 10% year-to-date.
EMB tracks the J.P. Morgan EMBI Global Core Index, a market-cap-weighted index. Potential investors should note that since it is a cap-weighted index, countries with greater debt will have a larger position in the portfolio.
A stabilizing dollar outlook also diminishes the danger of taking on emerging currency exposure, which has historically acted as a large source of volatility for investors investing in local-currency-denominated emerging market debt. While a Fed rate cut helps, some emerging markets central banks are expected to lower rates, too. Brazil, Chile, Mexico, India, and Thailand are among the developing economies that have recently trimmed borrowing costs.
"Investors in emerging market sovereigns have been richly rewarded this year, even relative to other sectors of a surging fixed-income market," reports Craig Mellow for Barron's.
Evaluating EMB
EMB offers investors exposure to U.S. dollar-denominated government bonds issued by emerging market countries. The fund provides access to the sovereign debt of more than 30 emerging market countries in a single fund, and gives investors the chance to seek a higher yield and customize their emerging markets allocations.
The $15.1 billion EMB holds about 470 bonds and has an effective duration of 7.93 years. The fund has 30-day SEC yield of 4.34%.
Related: Monetary Easing Seen Powering Rally in EM Bonds, ETFs
"Emerging markets have had an ace in the hole in the form of duration: 12 years instead of 3.5. Roughly speaking, bond prices are calculated by yield compression times the number of years a holder can expect to benefit from that change," according to Barron's.
Mexico, Indonesia, Saudi Arabia, Russia and Turkey are EMB's top five geographic exposures and at least four of those five countries are credible candidates to lower interest rates over the near-term.
This article originally appeared on ETFTrends.com
---
Content continues below advertisement