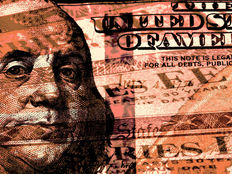 Traditional U.S. government bonds, such as 10-year debt, and the related ETFs are seeing yields dwindle, putting a burden on conservative income investors, but the WisdomTree Bloomberg Floating Rate Treasury Fund (USFR A-) could be valuable in the current low-yield climate.
USFR, which debuted in February 2014, follows the Bloomberg U.S. Treasury Floating Rate Bond Index. The fund's holdings are priced at a spread over 3-month Treasury bills. Floating rate notes featured in USFR mature in 2019 and 2020. The fund currently yields nearly 2.1%.
"The rally in the U.S. Treasury market has created a rather interesting investment backdrop," said WisdomTree in a recent note. "As you already may have heard, with yields coming down across the maturity spectrum, curves have either flattened or have become inverted, leaving investors with some important decisions to make in their fixed income portfolios."
Floating rate notes, like the name suggests, have a floating interest rate. Specifically, the notes' have a so-called reset period with interest rates tied to a benchmark, such as the Fed funds, LIBOR, prime rate or U.S. Treasury bill rate. Due to their short reset periods, these floating rate funds have relatively low rate risk.
Back In The USFR
Even at just over 2%, USFR's yield stands out in a bond landscape awash in low and negative yields.
"Without a doubt, some of the widest yield dispersion is occurring versus the 2- to 10-Year part of the curve. The FRN yield is roughly 60–70 basis points above the levels that exist for that sector," according to WisdomTree. "The spread versus the 3-Month bill is out over 20 bps, and even compared to the 30-Year bond, FRNs have more than a 10 bps advantage."
Related: USFR Bond ETF is Still Useful Even as the Fed Takes a Softer Stance
Floating rate note coupon payments are based on a reference rate (90-day t-bills) plus a spread. Since 90-day bills are auctioned every week, the effective duration of floating-rate notes is one week, which allows investors to capture higher rates of income as short-term rates rise. This also provides an opportunity for investors to boost income as the Federal Reserve hikes interest rates.
Investors have been fond of USFR this year as highlighted by year-to-date inflows of nearly $776 million.
This article originally appeared on ETFTrends.com.
---
Content continues below advertisement