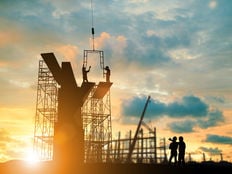 As bond yields get drubbed and more central banks outside the U.S. lower interest rates, yield-hungry investors need to evaluate asset classes beyond traditional bonds. Infrastructure investments, including ETFs such as the FlexShares STOXX Global Broad Infrastructure Index Fund (NFRA A), can help quench some of the investors' yield thirst.
NFRA tries to reflect the performance of the STOXX Global Broad Infrastructure Index, which identifies equities that derive the majority of revenue from infrastructure business, providing exposure to not only infrastructure sectors, but non-traditional ones as well.
On Wednesday, 10-year Treasury yields touched 1.63%. While that number has bounced back a bit, NFRA's trailing 12-month yield of 2.60% still looks attractive relative to a broad swath of U.S. bonds and a slew of other developed market sovereign debt.
U.S. infrastructure offers plenty of potential for investors but has also been a vexing concept because it has been generations since Uncle Sam last passed a substantial infrastructure spending package. Investors can get defensive with infrastructure by using ETFs, such as NFRA.
Long-Term Perspective
NFRA may offer more growth potential than many traditional infrastructure ETFs. The $1.26 billion fund allocates almost a third of its weight to the communication services sector, and 26.50% of its holdings are classified as growth stocks.
Still, the FlexShares is appropriate for conservative investors. In addition to its decent yield, NFRA devotes over 45% of its weight to value stocks and provides some buffer against global trade tensions via a 7.50% weight to utilities stocks. Year-to-date, NFRA is beating the S&P Global Infrastructure Index by 60 basis points.
One of the advantages in infrastructure is that regardless of what the global economy is doing, it's a necessity. Furthermore, it's less prone to the cyclical movements of the economy, which makes it a viable alternative as a defensive play.
Related: An ETF to Capture the Growing Global Demand for Infrastructure
The Organization for Economic Co-operation and Development is calling for $70 trillion needed in infrastructure spending around the world, but governments have only earmarked $45 trillion, leaving a gap of around $25 trillion that is not going to be covered. Consequently, private spending may need to step in to fill the gap.
Investors are displaying enthusiasm for NFRA this year. Year-to-date, the FlexShares fund has seen inflows of nearly $400 million.
This article originally appeared on ETFTrends.com.
---
Content continues below advertisement