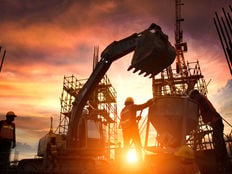 Bipartisanship is hard to come by on Capitol Hill these days, but one issue that has the potential to unite politicians from both sides of the aisle, albeit temporarily, is infrastructure and that's goods news for some ETFs, including the FlexShares STOXX Global Broad Infrastructure Index Fund (NFRA A).
NFRA tries to reflect the performance of the STOXX Global Broad Infrastructure Index, which identifies equities that derive the majority of revenue from infrastructure business, providing exposure to not only infrastructure sectors, but non-traditional ones as well.
"But as politicians in Washington gear up for the 2020 election season, some think Republicans and Democrats have a good incentive to work together and finally pass an infrastructure bill," reports CNN.
"Concerns are growing about China's economic slowdown, and the trade war is hurting construction equipment giants Caterpillar and Deere."
In the infrastructure space, there is a never-ending need for investments to update or repair aging communication, transportation, water, and energy networks. According to the American Society of Civil Engineers, existing U.S. infrastructure is crumbling and in need of major investment. Additionally, infrastructure as an asset class has long-term viability
Betting On NFRA
Infrastructure developments are typically large, long in duration and capital-intensive, carrying a high overall cost. Nevertheless, the projects compensate investors by including fairly predictable expenditures to maintain the asset, as well as regulated pricing that typically provides stable and reliable cash flows. Select investors have long enjoyed the unique characteristics of infrastructure to diversify equity risk exposure, generate income and hedge against long-term inflation.
"More funding for infrastructure could also boost blue-collar employment growth in the heartland. That's needed because the pace of job gains in the construction sector has flatlined in recent months; the sector has added just 31,000 jobs since May," according to CNN.
NFRA's index focuses on long-lived assets in industries with very high barriers to entry, with at least 50% of their revenue from key sectors with 3-month average daily trending volume of at least $1 million. The portfolio is weighted based on a free-float market cap with certain constraints to limit exposure in any one security, sub-sector, or country. Additionally, the fund is rebalanced annually.
Related: ETF Strategies That Can Help Meet the Challenges Ahead
"Caterpillar and Deere executives also noted the increase in local infrastructure spending as a positive sign in their latest quarterly earnings conference calls with analysts," reports CNN. "That's encouraging. But investors are clearly hoping that national politicians can put aside their differences and join states and cities by agreeing to commit more funding for infrastructure."
This article originally appeared on ETFTrends.com
---
Content continues below advertisement