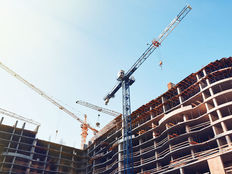 ETFs with exposure to real estate investment trusts (REITs) are thriving this year. Consider the FlexShares Global Quality Real Estate Index Fund (GQRE B-), which is higher by more than 16% year-to-date and resides near all-time highs.
Of course, GQRE is getting a lift from declining interest rates and investors' taste for higher-yielding, lower volatility assets. However, if equity markets and the broader economy stall, the fund could still be a winner.
"REITs have historically produced much greater returns in a late-cycle economy when interest rates are peaking, and global growth is slowing down. Moreover, they have also provided greater downside protection during recessions and recovered faster during the early cycle," according to Seeking Alpha.
GQRE targets the Northern Trust Global Quality Real Estate Index, a fundamentally-weighted index that focuses on commercial and residential REITs. Mortgage REITs, real estate finance companies, mortgage brokers and bankers, commercial and residential real estate brokers, and real estate agents and home builders are among the securities excluded from the index.
Go With GQRE
Data confirm that REITs do well in the latter stages of the business cycle.
"REITs have outperformed the S&P 500 by more than 7% annually in late-cycle periods since 1991 and have offered meaningful downside protection in recessions, underscoring the potential value of defensive, lease-based revenues and high dividend yields in an environment of heightened uncertainty," notes real estate research firm Cohen & Steers.
Another plus for GQRE is its global exposure, which levers the fund to easy monetary policy by central banks beyond the Federal Reserve.
GQRE also features significant ex-US exposure, a trait that should serve the fund as a slew of central banks besides the Federal Reserve consider lowering interest rates. While REITs are trading at the higher end of historical valuation ranges, the group is generating robust cash to support dividend hikes.
Related: A Quality Idea Among Real Estate ETFs
Rising rents and improving balance sheets also bolster the case for GQRE as a late-cycle play.
"Complementing these rent hikes, REITs have today exceptionally good access to capital (strong balance sheets) and low payout ratios of around 70% on average (based on cash flow). Therefore, they are able to expand portfolios with new acquisitions," notes Seeking Alpha.
This article originally appeared on ETFTrends.com
---
Content continues below advertisement