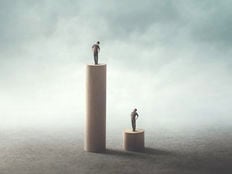 U.S. stocks rallied last week, but it may take some more convincing before investors embrace small-cap equities and ETFs in earnest.
Amid the latest market volatility, it's been large-cap equities that have been outperforming small caps thus far, according to Direxion Investments' latest Relative Weight Spotlight for the month of August. The trade wars have most certainly put investors on a rollercoaster ride, but for investors with a queasy stomach, they might want to look at large caps.
Investors looking for a way to play large-cap strength and small-cap weakness via a single instrument can consider the Direxion Russell Large Over Small-Cap ETF (RWLS B). RWLS offers the ability to benefit not only from large-cap equities potentially performing well but from their out-performance compared to their small-cap brethren.
Going Big With Large-Caps
"The S&P 500 [is]breaking through decade-long resistance after basing for much of the last 10 years," said Oppenheimer's Ari Wald in an interview with CNBC. "I think this argues for continued large-cap leadership for the long term. This is a bullish trait for the market. I think back to secular bull markets from 1946 to 1964, then again from 1983 to 1999 — led by large-cap stocks in a rising market."
The diverging fortune between the small-cap and large-cap segment is a cause for concern for some investors. Small-cap stocks, which focus more of on the domestic economy, typically strengthen ahead of a wider market rally and fall more quickly ahead of a broader pullback.
Related: Large Caps Outdo Small Caps in August Amid Market Volatility
In theory, small-cap stocks should be performing better than they are because of their domestic focus, a trait that should be advantageous at a time of heightened trade tensions. About 82% of the revenue from Russell 2000 companies is generated within the U.S. In comparison, around 50% of generate from S&P 500 companies is generated domestically.
"Large-cap is where one would overweight, and that's where we're overweight in our portfolio. When we look at the small-caps sector, and you take an X-ray of small caps, the financial sector has a large exposure to that index, as well as industrials. … Because of the flattening yield curve, we think financials are going to underperform. The global growth backdrop doesn't look all that great, hence the reason why we'd continue to be underweight industrials," said Chad Morganlander, portfolio manager at Washington Crossing Advisors, to CNBC.
This article originally appeared on ETFTrends.com.
---
Content continues below advertisement