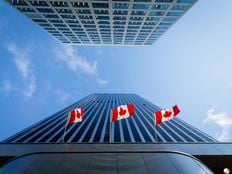 U.S. small-cap stocks are accessible via dozens of ETFs, including the iShares Core S&P Small-Cap ETF (IJR A-), which tracks the S&P Small-Cap 600 Index. The S&P SmallCap 600 is a popular domestic small-cap gauge because of its earnings eligibility criteria.
The benefits of the S&P SmallCap 600 are being applied to Canadian small caps with the newly minted S&P/TSX SmallCap Select Index, a benchmark that includes similar profitability requirements as the US-focused S&P SmallCap 600.
"Our new S&P/TSX SmallCap Select Index extends this phenomenon to Canadian equities, where we have found that a similar effect exists. Simply put, filtering out the 'junk' makes a big difference in Canadian small caps," said S&P Dow Jones Indices in a recent note.
The profitability focus of the S&P/TSX SmallCap Select Index is important because many Canadian small caps reside in the volatile cannabis, energy and materials sectors, the latter two of which are highly leveraged to commodities prices.
Watching That Small-Cap Index Weight
The index allocates 37% of its weight to materials and energy stocks, according to issuer data. The industrial and real estate sectors combine for 31.3%. The benchmark is home to 93 stocks with an average market value of $2.10 billion.
"The index follows the same methodology framework as our existing S&P SmallCap Select Index Series, but uses the S&P/TSX SmallCap Index as its selection universe," said S&P Dow Jones. "In order to be eligible for index inclusion, companies must post two consecutive years of positive earnings per share. As a buffer, companies are dropped from the index after posting two consecutive years of negative earnings. In order to improve the replicability of the index, we also eliminate the 20% smallest and 20% least liquid companies. The index is weighted by float market cap and is rebalanced semiannually in June and December."
There are nearly 200 companies in the S&P/TSX SmallCap Index, but due to the profitability screen, the S&P/TSX SmallCap Select Index isn't home to all those stocks.
Related: A Good Time to Consider This Emerging Markets ETF
"As of the June 2019 index rebalancing, the S&P/TSX SmallCap Select Index included 100 of the 199 companies in the S&P/TSX SmallCap Index and captured about 65% of the float market cap of the benchmark index," notes S&P Dow Jones. "The majority of the exclusions were driven by the positive earnings requirement."
Bottom line: the profitability requirement may be rigid, but it can meaningfully benefit long-term outcomes.
This article originally appeared on ETF Trends.
---
Content continues below advertisement