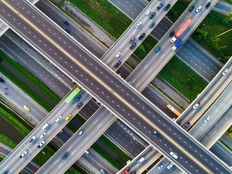 More and more, investors are looking for environmentally sound investment strategies. Believe it or not, infrastructure assets check that box and that theme is accessible with a slew of ETFs, including the FlexShares STOXX Global Broad Infrastructure Index Fund (NFRA A).
NFRA tries to reflect the performance of the STOXX Global Broad Infrastructure Index, which identifies equities that derive the majority of revenue from infrastructure business, providing exposure to not only infrastructure sectors, but non-traditional ones as well.
Some academic research and other studies confirm that shoring up infrastructure around the world is actually conducive to improving the environment.
"The impacts of climate change on weather, sea levels, food, and water supplies should be seen as an investment opportunity for our cities, says global investment banking firm Goldman Sachs," reports The Conversation. "In a report out last month the bank says cities need to adapt to become more resilient to climate change and this could 'drive one of the largest infrastructure build-outs in history.'"
Infrastructure Beckons
We use infrastructure every day, often without recognizing what we are doing. Infrastructure provides us with our water, electricity, and natural gas. It connects us during a phone call and allows us to get online. It assists us in traveling from place to place via roads, rails, or in the air. Without a well-maintained infrastructure, our modern economy wouldn't function. Those are among the reasons market observers are pushing for infrastructure enhancements around the world.
As the Goldman Sachs report notes, improved infrastructure is integral to sound environmental policy.
"Greater resilience will likely require extensive urban planning, with investments in coastal protections, climate-resilient construction, more robust infrastructure, upgraded water, and waste-management systems, energy resilience and stronger communications and transportation systems," reports The Conversation, citing Goldman.
Report: Why This Infrastructure ETF 'NFRA' is Still Important
One of the advantages in infrastructure is that regardless of what the global economy is doing, it's a necessity. Furthermore, it's less prone to the cyclical movements of the economy, which makes it a viable alternative as a defensive play.
The Organization for Economic Co-operation and Development is calling for $70 trillion needed in infrastructure spending around the world, but governments have only earmarked $45 trillion, leaving a gap of around $25 trillion that is not going to be covered. Consequently, private spending may need to step in to fill the gap.
This article originally appeared on ETFTrends.com
---
Content continues below advertisement