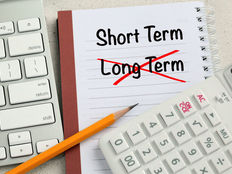 Although the Federal Reserve has lowered interest rates twice this year and could continue doing so, some investors may want to manage duration risk with short-term Treasury ETFs, such as the Vanguard Short-Term Government Bond ETF (VGSH A+).
Bond funds hold a collection of debt with varying maturities, buying and selling debt securities to maintain their short-, intermediate- or long-term strategy. When it comes to bond ETFs, investors should look at the duration, or a bond fund's measure of sensitivity to gauge their investment's exposure to changes in interest rates – a higher duration means higher sensitivity to shifts in rates.
Fixed-income investors should consider short-term, high investment-grade debt securities in a rising rate environment to hedge risks associated with higher rates and any potential volatility in markets when rates do rise. However, VGSH has some utility in the current environment.
VGSH "tracks a short-term Treasury bond index, resulting in a portfolio carrying very little interest-rate and credit risk," said Morningstar in a Friday note. "Risk and return are highly correlated in the fixed-income market, so this fund will not generate mouthwatering results, but it will deliver consistent returns and provide strong downside protection. Since its inception in November 2009, its standard deviation was over 2 percentage points less than the Bloomberg Barclays US Aggregate Bond Market index and nearly 12 percentage points less than the S&P 500."
Cost-Effective Bet
As is the case with so many Vanguard ETF, VGSH is a category leader in terms of costs. The fund charges just 0.07% per year or $7 on a $10,000 investment. The Vanguard fund has a duration of less than two years and follows the Bloomberg Barclays U.S. Treasury 1-3 Year Index.
"The Treasury market is highly efficient and liquid, reflecting the market's inflation and interest-rate expectations," according to Morningstar. "It is difficult for active managers to gain a durable edge and recoup their fees in this market, without also taking greater risk than this portfolio. Fees are particularly important in the short-term Treasury market, as these securities tend to have lower return potential than many other types of bonds. This fund ranks among the cheapest in its category, which should provide it with a solid edge over more-expensive alternatives."
The research firm has a Silver rating on VGSH, the second-highest rating it places on ETFs.
For more information on U.S. government debt, visit our Treasury Bonds category.
This article originally appeared on ETFTrends.com
---
Content continues below advertisement