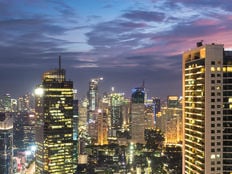 The Cambria Emerging Shareholder Yield ETF (EYLD C+) recently celebrated its third anniversary and is doing so in style, having landed the prestigious five-star rating from Morningstar. EYLD targets the Cambria Emerging Shareholder Yield Index.
That index is comprised of stocks with high cash distribution characteristics and is comprised of the companies with the best-combined rank of dividend payments and net stock buybacks, which are the key components of shareholder yield. EYLD is part of a broader suite of shareholder yield ETFs offered by Cambria, which also includes the Cambria Shareholder Yield ETF (SYLD B) and the Cambria Foreign Shareholder Yield ETF (FYLD B+).
"Of course, to be objective, it's important to remember that a Morningstar Rating reflects past returns," according to Cambria. "It's not designed to predict performance going forward. In that way, it's more of a report card than a crystal ball. However, the rating system might be a helpful tool for identifying potential investments."
EYLD and its stablemates focus on three primary factors: dividend payments, net buybacks, and net share repurchases.
Examining The EYLD Strategy
The shareholder yield strategy incorporates buybacks as a supplement and also includes a focus on dividends. Cambria also has a screen for dividends but believes that combining good dividend yields with good buyback yields to complement the broader "shareholder yield" objective.
EYLD features exposure to more than a dozen countries with its largest geographic allocation being Taiwan at 20.3%. China and South Africa combine for 28.5% of the fund's weight. Each of the 11 GICS sectors are represented in EYLD with materials and tech stocks combining for 36.6% of the fund's roster.
EYLD's five-star Morningstar, while impressive on its own, may be more a result of Cambria's broader lineup of solid ETFs.
"Additionally, we believe it might be helpful to view the Morningstar Rating system as a way to see the forest rather than the trees – meaning, we believe the ratings might be less about analyzing the performance of any one, given fund, and more so about identifying the handful of stand-out ETF shops that have created multiple funds that have outperformed their peers," according to Cambria.
EYLD has 98 holdings and charges 0.69% per year, or $69 on a $10,000 investment.
This article originally appeared on ETFTrends.com.
---
Content continues below advertisement