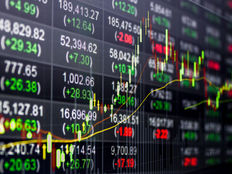 Given the market volatility investors witnessed the past week, it behooves them to consider a multi-asset approach to not only obtain the necessary portfolio diversification, but to also help blunt the impact of another market downturn. While investors can allocate their capital into various asset classes, another way to get multi-asset exposure is via exchange-traded funds (ETFs).
"Empirical evidence suggests that in periods of heightened volatility, stock and bond markets often move in tandem with one another," wrote Patrick B. Healey in Kiplinger. "Changing economic conditions that push one market downward can pull the other with it, thereby increasing the correlation between stocks and bonds. For that reason, it's important to pursue diversification on multiple levels."
"First, investors should look to diversify within distinct asset classes in order to protect themselves against fluctuations in the value of individual investments," Healey added. "Secondly, they should consider further diversifying their portfolios by incorporating asset classes beyond just stocks and bonds. Examples of such asset classes may include investments in commercial real estate, private equity, oil & gas, precious metals and private credit."
Despite the markets rebounding during Monday's market session, it's best for investors to start cushioning their portfolios now to prepare for a future downturn.
"Financial markets are cyclical, and it's inevitable that a market correction of some kind will eventually occur again," wrote Healey. "Thus, holding multiple, non-correlated asset classes in a portfolio can limit downside exposure, while also providing the potential for attractive annual returns."
Here are a few multi-asset ETFs investors should consider:
iShares Core Moderate Allocation

ETF

(

AOM

): the fund seeks to track the investment results of the S&P Target Risk Moderate Index composed of a portfolio of underlying equity and fixed income funds intended to represent a moderate target risk allocation strategy. The fund is a fund of funds and seeks its investment objective by investing primarily in underlying funds that themselves seek investment results corresponding to their own respective underlying indexes. The index measures the performance of the S&P Dow Jones Indices

LLC

proprietary allocation model.
iShares Morningstar Multi-Asset Income

ETF

(

IYLD

): the fund seeks to track the investment results of the Morningstar® Multi-Asset High Income IndexSM. The index is broadly diversified and seeks to deliver high current income while maintaining long-term capital appreciation. The fund is a fund-of-funds and invests primarily in the securities of the underlying funds that themselves seek investment results corresponding to their own underlying indexes.
Direxion Flight to Safety Strategy

ETF

(

FLYT

):

FLYT

aims to deliver a simple, yet robust, approach to portfolio risk mitigation from equity market drawdowns while also providing long-term appreciation potential. By combining long-term U.S. treasury bonds, utility stocks, and gold bullion, the

ETF

may act as a diversified ballast for portfolios while also acting as a source of uncorrelated returns.
This article originally appeared on ETFTrends.com.
---
Content continues below advertisement