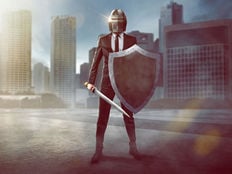 Amid depressed bond yields and the still lurking possibility of elevated market volatility, dividend stocks and ETFs take on increased importance. The FlexShares Quality Dividend Index Fund (QDF A-) is definitely a relevant part of that conversation.
QDF's methodology goes beyond prosaic measures, such as dividend increase streaks. In fact, it can be argued that the FlexShares fund is far more stringent when it comes to sourcing reliable dividend growth.
QDF's underlying benchmark targets management efficiency or quantitative evaluation of a firm's deployment of capital and its financing decisions. By using a management efficiency screen, the index can screen out firms that aggressively pursue capital expenditures and additional financing, which typically lose flexibility in both advantageous and challenging partitions of the market cycle.
"This strategy targets profitable dividend-paying stocks to keep its risk in check. The portfolio also limits unintended bets by capping single-stock, industry, and sector weightings, which improves diversification and should further reduce risk," said Morningstar in a research note published earlier this year. "The fund selects its holdings from the largest 1,250 U.S. stocks that offer dividend yields greater than the average stock in its selection universe and ranks them using a scoring model that combines profitability, cash flow, and management efficiency metrics. The result is a well-diversified portfolio of highly profitable, dividend-paying stocks."
QDF Quality Query
QDF's quality focus is important. Quality should not be conflated with low volatility, but there are times when quality stocks display low volatility traits. That was the case during the fourth quarter of last year market swoon, indicating that the quality factor can provide some protection during times of elevated market stress.
QDF "sidesteps the risk of holding overly risky dividend-paying stocks by balancing profitability with high dividend yield. More-profitable companies are better equipped to maintain dividend payments during a market downtown or raise them in the future compared with less profitable firms. Although this fund's profitability tilt helps it avoid the riskier, highest-yielding stocks, its yield has still consistently topped the category average by 30%," according to Morningstar.
Related: A Dividend ETF Built For Tumultuous Times
The quality factor helps hone in on the quality of a company earnings as a better gauge of future earnings performance. The underlying indices may provide a quantifiable measure of each company's profitability, efficiency, earnings quality, and leverage.
Since QDF's "inception in December 2012 through March 2019, it outpaced the average fund in the large-value category and Russell 1000 Value index by 2.5 and 1.7 percentage points annually, respectively, with similar risk. Over this period, its performance benefited the most from underweighting energy sector stocks and favorable stock selection within the consumer discretionary sector," notes Morningstar.
This article originally appeared on ETFTrends.com
---
Content continues below advertisement