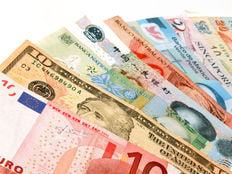 With sovereign bond yields low in the U.S. and throughout much of the developed world, the iShares J.P. Morgan USD Emerging Markets Bond ETF (EMB A-) and rival emerging markets bond funds have been popular destinations for income-starved bond investors this year.
EMB, the largest emerging markets bond fund, is higher by nearly 9% this year. EMB tracks the J.P. Morgan EMBI Global Core Index, a market-cap-weighted index. Potential investors should note that since it is a cap-weighted index, countries with greater debt will have a larger position in the portfolio.
While EMB is higher by almost 8% this year and yields over 5%, explaining why some investors are enthusiastic about the fund, Latin America represents a significant political risk for EMB and other emerging markets bond funds with significant exposure to the region.
"Recent political volatility in a number of Latin American countries, including Argentina, Bolivia, Chile, Ecuador, and Peru, reflects a broader theme of rising political risk that could amplify negative sovereign credit trends in the regions," said Fitch Ratings in a recent note.
EMB holds 479 bonds and with the exception of Bolivia, each of the aforementioned countries are represented in the fund.
Geopolitical Volatility
"The spate of heightened political volatility in Latin America has included sustained, large-scale demonstrations in Bolivia, Chile and Ecuador that have disrupted economic activity and prompted policy shifts, a constitutional crisis in Peru, and a significant electoral shock that precipitated a financial crisis and sovereign default in Argentina," according to Fitch.
A stabilizing dollar outlook also diminishes the danger of taking on emerging currency exposure, which has historically acted as a large source of volatility for investors investing in local-currency-denominated emerging market debt.
While a Fed rate cut helps, some emerging markets central banks are expected to lower rates, too. Brazil, Chile, Mexico, India, and Thailand are among the developing economies that have recently trimmed borrowing costs. There are other reasons why LatAm could be a problem region for emerging markets sovereigns.
"Heightened political risk comes at a time of broad-based downward rating pressure in the region, with protracted subdued growth contributing to persistent fiscal pressures and rising debt levels in most Latin American countries. The underlying macroeconomic and fiscal environment has elevated vulnerabilities to exogenous and domestic shocks," according to Fitch.
This article originally appeared on ETFTrends.com.
---
Content continues below advertisement