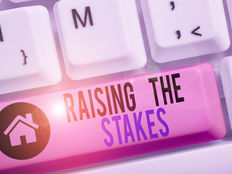 Consider the case of the case of the MicroSectors FANG+ Index -3X Inverse Leveraged ETNs (FNGD). Bank of Montreal, the issuing bank behind the MicroSectors ETNs, including FNGD and the BMO REX MicroSectors FANG+ Index 3X Leveraged ETNs (FNGU), recently had to add $50 million in additional notes to the bearish FNGD. That occurred in two separate moves last month and last week.
That says traders are betting on declines for FANG stocks even as FNGU soars.
"The MicroSectors FANG+ Index 3X Leveraged exchange-traded note is up 23% this year, better than most of the other 2,300 exchange-traded products listed in the U.S., including other leveraged and non-leveraged products, according to Morningstar. That follows a 117% rise last year," reports Dow Jones.
Fun With FANGs
The MicroSectors FANG+ Index 3X Leveraged ETNs tries to reflect the performance of the NYSE FANG+ Index on a daily compounded 3x or 300% leveraged basis while the MicroSectors FANG+ Index -3X Inverse Leveraged ETNs follows the same index but on a daily compounded -3x inverse or -300% leveraged basis.
The underlying NYSE FANG+ index includes 10 highly liquid stocks that represent a segment of the technology and consumer discretionary sectors made up of highly-traded growth stocks of technology and tech-enabled companies, according to a prospectus sheet. Underlying components are equally weighted across all stocks, which may provide performance that allows for a more value-driven approach to investing since larger or more outperforming stocks are rebalanced to be equal to those lesser performers. The equal-weighting methodology would allow for a more representative portfolio, according to REX.
"The note also uses derivatives to magnify the moves of the underlying index. So while the index tracked by the note is up just 7.3%, the FANG+ note has risen nearly three times that. The leverage, however, works both ways and has the potential to magnify losses, making the strategy especially risky during volatile periods," according to Dow Jones.
Should the FANG rally persist, traders may depart the bearish FNGD for greener pastures in the form of FNGU.
This article originally appeared on ETFTrends.com.
---
Content continues below advertisement