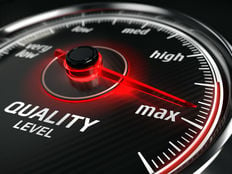 With yields on U.S. government debt and major equity benchmarks low, many investors are evaluating high-yield dividend strategies, but they should also be considering quality ideas, such as the FlexShares Quality Dividend Dynamic Index Fund (QDYN B).
QDYN's underlying index targets management efficiency or a quantitative evaluation of a firm's deployment of capital and its financing decisions. By using a management efficiency screen, the index can screen out firms that aggressively pursue capital expenditures and additional financing, which typically lose flexibility in both advantageous and challenging partitions of the market cycle.
While QDYN has a distribution yield of 3.46%, impressive by the standards of the current environment, the ETF's methodology steers investors away from high dividend payers that could be challenged to meet current payout obligations or grow dividends in the future.
"So, what's wrong with aggressively targeting the highest-yielding stocks?," said Morningstar in a recent note. "The richest dividend yields can point to firms with weak or declining profits, which could threaten the sustainability of the dividend and, more importantly, the price of the stock."
QDYN ETF Query
Looking ahead, the markets are anticipating greater penetration of factor-based strategies in the fixed-income space, similar to what happened with equity ETFs. Bond ETFs may start to track customized indices that incorporate market liquidity constraints, specific levels of duration or credit scoring models.
With QDYN, profitability score is also taken based on a firm's relative competitive advantage across several metrics. Firms with wider margins typically are better positioned to expand compared to those with tighter margins.
As investors grow accustomed to traditional market-cap-weighted index funds and single factor styles like value or growth investments, more may look to these enhanced multi-factor-based suites that combine multiple market factors, as a means to potentially get a leg up in the market.
Related: QLC Is A Hidden Gem Among Quality ETFs
QDYN allocates about 42% of its combined weight to the technology and financial services sectors. Those are groups with robust cash flows and dividend growth potential, but they are not considering high-yield segments.
"The highest-yielding stocks don't necessarily offer the highest return," according to Morningstar. "Over the better part of the past three decades, non-dividend-payers posted slightly higher returns than the highest-dividend-payers (with higher volatility). During that time, dividends have declined in importance as firms have increasingly used share repurchases to return cash to shareholders."
---
Content continues below advertisement