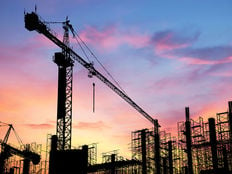 Infrastructure ETFs, such as the FlexShares STOXX Global Broad Infrastructure Index Fund (NFRA A), offer investors sound fundamentals and above-average dividend yields, making the asset class appealing in the current market environment.
NFRA tries to reflect the performance of the STOXX Global Broad Infrastructure Index, which identifies equities that derive the majority of revenue from infrastructure business, providing exposure to not only infrastructure sectors, but non-traditional ones as well.
In the infrastructure space, there is a never-ending need for investments to update or repair aging communication, transportation, water, and energy networks. According to the American Society of Civil Engineers, existing U.S. infrastructure is crumbling and in need of major investment. Additionally, infrastructure as an asset class has long-term viability.
"Repairing the nation's highways, electrical grid, water systems and the like is one policy area where widespread agreement exists across nearly every political affiliation and persuasion," according to Bloomberg. "Sure, you can find a few extremists who insist that America's roads, bridges, and tunnels are just fine, but no one takes those cranks seriously."
The NFRA Appeal
Infrastructure developments are typically large, long in duration and capital-intensive, carrying a high overall cost. Nevertheless, the projects compensate investors by including fairly predictable expenditures to maintain the asset, as well as regulated pricing that typically provides stable and reliable cash flows. Select investors have long enjoyed the unique characteristics of infrastructure to diversify equity risk exposure, generate income and hedge against long-term inflation.
Adding to the case for NFRA is that the ETF has a trailing 12-month distribution yield of 3.18% and the long spending trends for infrastructure are impossible to ignore.
An estimated $79 trillion will be spent on global infrastructure from 2016 through 2040, but the investments still fall short by $15 trillion of the required $94 trillion needed. NFRA continues to look good for the long-term.
Related: Why This FlexShares ETF is an Infrastructure Winner
Infrastructure efforts "are long-term projects: The electrical grid is well over 100 years old – it needs to be hardened against cyberattacks and made more resilient for the next 100 years," notes Bloomberg.
Investors don't need to wait 100 years for NFRA to bear fruit as the fund is up nearly 17% just this year.
This article originally appeared on ETFTrends.com.
---
Content continues below advertisement