Wall Street is eagerly awaiting tomorrow's consumer price index report, which will offer insight into the fight against inflation.
U.S. consumers' inflation expectations eased slightly in October, the Federal Reserve Bank of New York reported on Monday. Median inflation expectations declined at the one-year and five-year ahead horizons, falling to 3.6% from 3.7% and to 2.7% from 2.8%, respectively. Median inflation expectations at the three-year ahead horizon remained unchanged at 3.0%.
Meanwhile, on Friday, a report from the University of Michigan showed inflation expectations rose in its November survey. The report showed the medium-term outlook for price pressures reached the highest level in more than a dozen years. According to the report, November marks the fourth consecutive month in which U.S. consumer sentiment has fallen.
As investors parse the latest round of inflation data, it's important to note that emerging markets have historically held up better in periods of above-trend inflation. Emerging markets have tended to do particularly well in environments in which inflation is above-trend but growth is improving.
Part of this has to do with emerging markets' inherent value tilt compared to the U.S. market. Furthermore, emerging markets have 50% more cyclicality than U.S. markets as measured by sector exposure.
Additionally, emerging market countries have had more experience in the past 25 years in dealing with inflation than developed markets.
Thus, emerging markets economies are prepared to deal with inflation and higher rates, evidenced by the global inflation surge in the past few years. Emerging markets respond more quickly, as many economies began rate hikes in 2021 – much before many developed economies.
See more: Defensive Value ETF 'ROUS' Rallies Alongside Broader Market
Investing in Emerging Markets
Constructive fundamentals for international markets indicate that they could pull ahead soon. The Hartford Multifactor Emerging Markets ETF (ROAM A-) seems uniquely well-positioned as it targets value stocks and aims to reduce volatility by 15% over a complete market cycle.
The fund, which provides broad emerging markets exposure, has impressively outperformed the emerging markets benchmark by over 900 basis points year to date.
---
Content continues below advertisement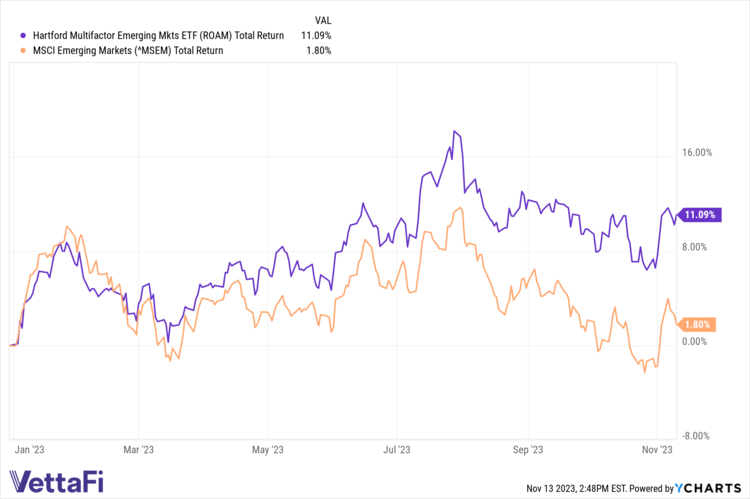 For more news, information, and analysis, visit the Multifactor Channel.
Investing involves risk, including the possible loss of principal.
This article was prepared as part of Hartford Funds paid sponsorship with VettaFi. Hartford Funds is not affiliated with VettaFi and was not involved in drafting this article. The opinions and forecasts expressed are solely those of VettaFi. Information on this site should not be used or construed as an offer to sell, a solicitation of an offer to buy, a recommendation for any product or as investment advice.