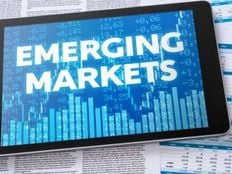 The latest CPI print showed U.S. inflation accelerated for a second consecutive month in August.
Consumer prices increased 3.7% in that month from a year prior, up from 3.2% in July, the Labor Department said on Wednesday. The increase was largely driven by a spike in gasoline prices, which were up 10.6% during the month.
As inflation remains stubbornly high and a headwind for markets, it's interesting to note that emerging markets have often held up well in above-trend inflation. Particularly in environments where growth is improving, EMs have tended to do well.
Emerging markets as an asset class is more value-oriented than the U.S. market. Notably, EMs have 50% more cyclicality than U.S. markets as measured by sector exposure.
See more: Why Value Stocks Are Still Well Positioned
Additionally, emerging market countries have dealt with inflation more frequently than developed markets over the past 25 years, making these economies better prepared to deal with inflation and higher rates.
During the global inflation surge in the past few years, EMs have responded more quickly, with many countries beginning rate hikes in 2021. In response, emerging market countries have observed falling core inflation much earlier than developed market countries.
Add Exposure to Emerging Markets
Constructive fundamentals for international markets indicate that they could pull ahead in the near future. Two funds to consider that offer EM exposure, targeting value stocks, include the (RODE B) and the (ROAM A-).
ROAM offers broad exposure to emerging market equities. Meanwhile, RODE provides exposure to international equities, including both emerging and developed markets.
ROAM and RODE each seek to reduce volatility by 15% over a complete market cycle. This volatility reduction is particularly impactful in the EM space, as these markets tend to be more volatile.
---
Content continues below advertisement
For more news, information, and analysis, visit the Multifactor Channel.
Investing involves risk, including the possible loss of principal.
This article was prepared as part of Hartford Funds paid sponsorship with VettaFi. Hartford Funds is not affiliated with VettaFi and was not involved in drafting this article. The opinions and forecasts expressed are solely those of VettaFi. Information on this site should not be used or construed as an offer to sell, a solicitation of an offer to buy, a recommendation for any product, or as investment advice.