Small-cap stocks closed last week on a high note, partially offsetting some of September's declines.
The Hartford Multifactor Small Cap ETF (ROSC A-) gained 1.3% last week, ending the month down just under 5%. Meanwhile, small-cap value peer iShares Russell 2000 Value ETF (IWN A-) lost 6.5% during the month.
ROSC may be a solution for investors looking to add exposure to small-cap value stocks without taking on too much volatility risk. Using a multifactor approach, ROSC aims to outperform cap-weighted indexes over a complete market cycle with up to 15% less volatility.
See more: It's Time to Prepare Client Portfolios for Higher Volatility
While ROSC limited losses compared to IWN in September, the fund has also impressively outperformed its small-cap value peer over longer periods. Year to date as of the end of September, ROSC has climbed 2.5, while IWN has declined 0.6%.
ROSC is up 14.1% over a one-year period, while IWN has gained 7.6%. Over a three-year period, ROSC has returned 47.7% compared to IWN's 42.3% return (nonannualized).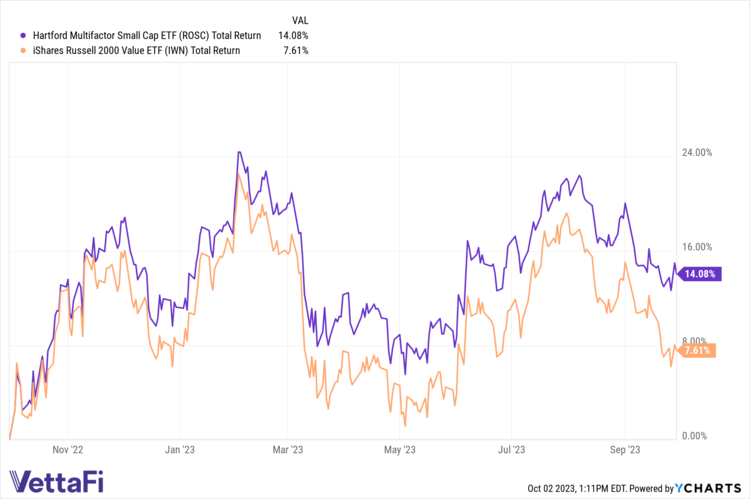 ---
Content continues below advertisement
Comparing ROSC and IWN
A multifactor small-cap ETF's portfolio looks very different from its cap-weighted peers, potentially adding value for investors.
Both ROSC and IWN offer exposure to small-cap equities; however, there is only a 20% overlap by weight between the two small-cap value ETFs. This amounts to around 256 overlapping holdings (IWN holds 1,445 securities and ROSC holds 337 securities.)
While investing in the broader small-cap market — a collection of companies based on size — seems like it should offer balanced exposure, it can often introduce significant concentration risk.
Multifactor ETFs seek to solve this by targeting desired return-enhancing factors and reducing exposure to unrewarded risk exposures. This is particularly impactful in the small-cap space, as the segment of the market is inherently more volatile.
Despite small-cap stocks' recent underperformance, the asset class is well-positioned for future growth. The space is currently cheap both historically and in comparison to large-cap stocks. Additionally, small-cap stocks have historically tended to rally in periods following economic turndowns, suggesting a sustained rally could be imminent.
For more news, information, and analysis, visit the Multifactor Channel.
Investing involves risk, including the possible loss of principal.
This article was prepared as part of Hartford Funds paid sponsorship with VettaFi. Hartford Funds is not affiliated with VettaFi and was not involved in drafting this article. The opinions and forecasts expressed are solely those of VettaFi. Information on this site should not be used or construed as an offer to sell, a solicitation of an offer to buy, a recommendation for any product or as investment advice.