Small caps are showing their strength this month, positioning for a rebound during the second half of 2023.
A key trend during the first half was the strong outperformance from large-cap stocks. However, mid and small caps have shown strength in July to date, suggesting now may be an opportune time for investors to get back into small caps while valuations are low.
The large cap benchmarks Russell 1000 and S&P 500 each outpaced the small cap benchmark Russell 2000 by over 800 basis points during the first six months of 2023.
However, small-caps' performance in July counters the trend observed earlier in the year. Month to date, small-cap benchmark Russell 2000 is up 2.4% while the Russell 1000 is up just 0.8%.
Enhance Small Cap Exposure with a Multifactor Small Cap ETF
For investors looking to add exposure to small caps but would like to avoid some of the inherent volatility, the (ROSC A-) may be a strong option to consider.
ROSC aims to outperform cap-weighted indexes over a complete market cycle with up to 15% less volatility. ROSC invests in U.S. small caps that exhibit strong and balanced exposure to the value, momentum, and quality factors.
Hartford Funds' multifactor small cap ETF has impressively outperformed both the small and large cap benchmarks over a three-year period. ROSC is up 62.6% over a three-year period (nonannualized). Meanwhile, the small and large cap benchmarks have gained 41.2% and 45.3%, respectively, during the same period.
---
Content continues below advertisement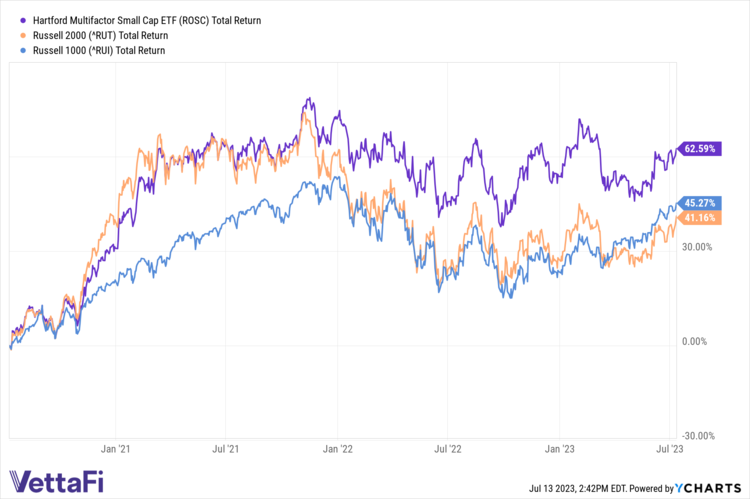 See more: How Does Multifactor ROSC Compare to IWM?
Notably, a multifactor small cap ETF's portfolio looks very different from its cap-weighted peers, potentially adding value for investors. While both ROSC and the (IWM A-) offer exposure to small-cap equities, there is only a 16% overlap by weight between the two portfolios. This amounts to around 301 overlapping holdings (IWM holds 2000 securities, as its name suggests.)
For more news, information, and analysis, visit the Multifactor Channel.
Investing involves risk, including the possible loss of principal.
This article was prepared as part of Hartford Funds paid sponsorship with VettaFi. Hartford Funds is not affiliated with VettaFi and was not involved in drafting this article. The opinions and forecasts expressed are solely those of VettaFi. Information on this site should not be used or construed as an offer to sell, a solicitation of an offer to buy, a recommendation for any product or as investment advice.