The Russell 2000 has entered positive territory for the year as small caps rallied on a cooler-than-expected October CPI report.
While the style-pure small-cap benchmark has clawed back its year-to-date losses, it's being handily outpaced by Hartford Funds' multifactor small cap ETF. The (ROSC A-) helped to limit losses in the recent market drawdown, explaining its year-to-date outperformance.
Not all small cap value stocks are outpacing the style-pure Russell 2000 year to date, however. In fact, the Russell 2000 Value Index is lagging the style-pure benchmark by near 200 basis points year to date. Meanwhile, ROSC is up 5.3% year to date.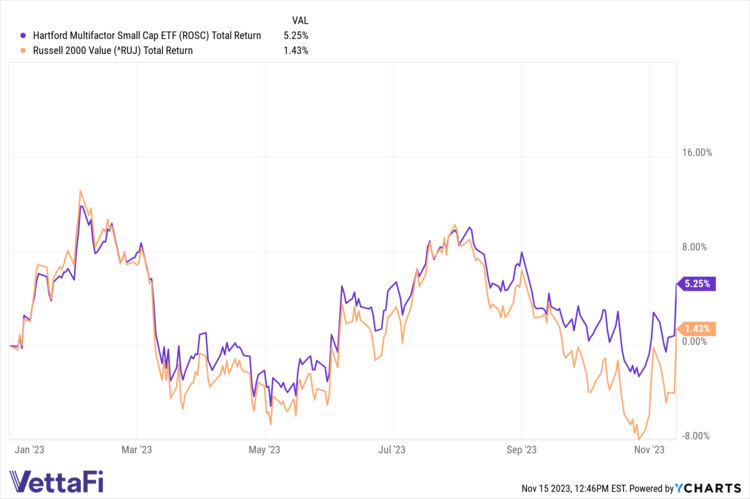 How ROSC Differs from the Small-Cap Value Benchmark
ROSC's unique approach has caused it to outperform the small-cap value index over various periods. Over a one-year period, ROSC is up 1.4% while the small-cap value index is down 3.9%. ROSC is up 36.6% over the past three years, outpacing the benchmark by over 1,100 basis points during that period.
See more: Under the Hood of Hartford Funds' Style-Pure Core ETF
ROSC may be a solution for investors looking to add exposure to small caps without taking on too much volatility risk. Using a multifactor approach, ROSC aims to outperform cap-weighted indexes over a complete market cycle with up to 15% less volatility.
ROSC invests in companies in the U.S. small-cap universe. The fund seeks to target desired return-enhancing factors while reducing exposure to unrewarded risk exposures.
Small caps are well-positioned for future growth. The space is currently cheap both from a historical perspective and in comparison to large-cap stocks. Additionally, small-cap stocks have historically tended to rally in periods following economic turndowns, suggesting a sustained rally could be imminent.
For more news, information, and analysis, visit the Multifactor Channel.
Investing involves risk, including the possible loss of principal.
This article was prepared as part of Hartford Funds paid sponsorship with VettaFi. Hartford Funds is not affiliated with VettaFi and was not involved in drafting this article. The opinions and forecasts expressed are solely those of VettaFi. Information on this site should not be used or construed as an offer to sell, a solicitation of an offer to buy, a recommendation for any product or as investment advice.
---
Content continues below advertisement